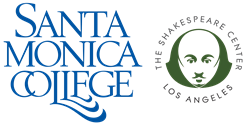 "Santa Monica College is delighted to partner with the Shakespeare Center of Los Angeles to launch our own SMC Shakespeare Apprentice Company and to host SCLA's freshly reimagined productions on our campus," --Dr. Kathryn E. Jeffery, SMC President
Santa Monica, CA (PRWEB) May 31, 2016
The Shakespeare Center of Los Angeles (SCLA) and Santa Monica College (SMC) Theatre Arts—with the endorsement and sponsorship of the Santa Monica Arts Commission of the City of Santa Monica—announce a groundbreaking "Summer of Shakespeare" collaboration featuring the launch of the SMC Shakespeare Apprentice Company, in tandem with SCLA's 30-year anniversary of award-winning and popular LA-centric Shakespeare productions. The "Summer of Shakespeare" will be held on the SMC main campus June 24 - Aug. 21, at 1900 Pico Blvd. in Santa Monica.
This premiere season will feature two of Shakespeare's most popular romantic comedies: a student production of 'A Midsummer Night's Dream', and 'Twelfth Night' featuring a professional, union-contracted cast. Both comedies are re-imagined as though they are a part of Los Angeles history. Performances run from June 24 - July 10 for 'A Midsummer's Night Dream', and July 27 - Aug. 21 for 'Twelfth Night'. SMC Theatre Arts will also present the children's show 'Aladdin, Jr.' which will run between the two Shakespearean productions, from July 15 - 24.
The SMC Main Stage will be home to the SMC Shakespeare Apprentice Company's 'A Midsummer Night's Dream' set in Laurel Canyon during the 1960's sexual revolution. This show will feature some of the accomplished students training at SMC's renowned Theatre Arts Department, and is directed by SMC Theatre Arts instructor Danny Campbell.
Headlining this summer—also at the SMC Main Stage—and directed by former Royal Shakespeare Company member Kenneth Sabberton, the cast of 'Twelfth Night' finds itself in the aftermath of the 1942 Invasion of Los Angeles, a historical incident when many Angelenos believed the city was either under attack by World War II enemies or aliens from outer space.
Theater patrons are encouraged to bring picnics and blankets to dine al fresco on the SMC Grand Lawn before the performances. Happy hour cast and crew pre-show and post-show dessert mingling events are planned at area restaurants. "From Page to Stage" presentations will be announced throughout the season for Shakespeare enthusiasts looking for a deeper exploration of the Bard's work.
"Somehow, imagining that William Shakespeare is a contemporary Los Angeles playwright seems to inspire some of the most enjoyable and accessible interpretations of Shakespeare's plays we have produced," explains SCLA's Founder and Artistic Director Ben Donenberg. "I'm convinced we are at our very best as a company when we adhere to Shakespeare's mandate to hold the mirror up to nature and without changing a single word of text, challenge ourselves to rediscover Shakespeare for the 21st century. We love creating old-fashioned face time with our real time audiences, and illuminating timeless yearnings in ways that make everybody feel way more connected to something deeper and more dimensional than is possible through a handheld device."
SCLA's summer productions have become a tradition in Los Angeles, attracting thousands of children, students, veterans, adults, and seniors annually. In 2012, SCLA launched Veterans in Arts, which provides accredited on-the-job vocational training and paid transitional employment experiences to chronically unemployed veterans, who are hired to work in all areas of the theatrical production.
"Santa Monica College is delighted to partner with the Shakespeare Center of Los Angeles to launch our own SMC Shakespeare Apprentice Company and to host SCLA's freshly reimagined productions on our campus," said Dr. Kathryn E. Jeffery, SMC Superintendent/President. "Samuel Taylor Coleridge called Shakespeare 'myriad-minded' and we are living that out through this vibrant collaboration by bringing to our arts-loving community—with the support of the City's Santa Monica's Arts Commission—a summer where we can rediscover the genius of Shakespeare in a context that we Angelenos will particularly enjoy. And we are so proud that SMC's talented Theatre Arts students and instructors will be a part of SCLA's wonderful tradition!"
To reserve tickets for either of the shows, call 213-481-BARD [2273] or purchase online at http://www.shakespearecenter.org. Active military personnel, veterans, their families and care-givers may reserve tickets free of charge. Picnic dinners are available for purchase with VIP seats. Students qualify for discounted tickets.
For media interviews and photos, please contact Erin Cameron at erin(at)shakespearecenter(dot)org.