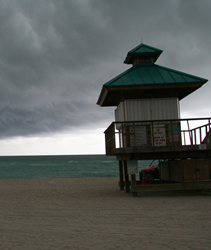 Sunny Isles Beach, Florida (PRWEB) May 31, 2016
Sunny Isles Beach is in the Zone B floodplain where a storm may cause a tidal surge, high winds, tornadoes, flooding, or loss of utility services. The time for planning is now, before a storm is approaching.
To be ready in case of a storm, residents should have a plan in place. Families should follow the recommendations of the Miami-Dade County (MDC) Office of Emergency Management (OEM) online at miamidade.gov/hurricane. A copy of these hurricane preparedness recommendations may also be obtained through the mail by calling the Miami-Dade Answer Center at 311. Miami-Dade County also has a plan to help those with health and mobility issues, but residents must pre-register with the Emergency & Evacuation Assistance Program (EEAP) by requesting an application through either the county hurricane website or by calling 311.
For a minimal storm event when residents will shelter in their homes, each family should be prepared with food and water for 72 hours, in case flooding, power outages or wind keep them from leaving their building for a period of time. In the event of a mandatory evacuation, however, residents should have a place in mind to stay with friends or relatives. Use a Hurricane Evacuation Center (HEC) as a last resort, the facilities are very basic and pets are not allowed.
If evacuation becomes necessary, residents must heed a mandatory evacuation order. Police and emergency services will also evacuate and will not be able to assist your household in case of an emergency. If a family is unable to find transportation to a shelter, please take public transportation at the stops labeled as Miami-Dade Transit Emergency Evacuation Bus Pick-Up Sites. If an Emergency Evacuation Bus Pick-Up site is not located near you, regular Miami-Dade Transit bus service will continue and residents can utilize regular routes to get to those evacuation bus pick-up sites. Evacuees should advise the bus operator of their intention to go to an emergency evacuation pick-up site. Residents can use the trip planner at:miamidade.gov/transit/metrobus. Sunny Isles Beach pick-up sites are located at:

Arlen House Condominiums, 158 Street & Collins Avenue
Winston Towers, 100 & 300 Buildings on 174 Street
Golden Shores Area, 189 Street & Collins Avenue
Ocean View Condominiums, 19300 Collins Avenue
To use a Pet-Friendly Evacuation Center (PEC) pre-registration is no longer required, but the animal must be determined to be in good health by the veterinarian on site and the owners must show proof of up-to-date vaccinations, including a rabies shot and a dog license. One family member must stay with the pet. The two listed PEC locations are: Krop Senior High School, 1410 Count Line Road, 33179 and E. Darwin Fuchs Pavilion at Tamiami Fairgrounds, 10901 SW 24 Court, 33165.
For more hurricane tips see page 14 in summer SIB Living Magazine, pick up a hurricane brochure at the information desk at the Government Center or please contact the Miami-Dade Answer Center at 311. During a storm, stay tuned to local television for the most up-to-date precautions, watches and warnings.
For additional information throughout the hurricane season, visit the official City website at sibfl.net, watch SIBTV, or follow the City on Twitter & Instagram (@CityofSIB), or on Facebook (City of Sunny Isles Beach). For questions, please contact Cultural and Community Services at 305.792.1706.