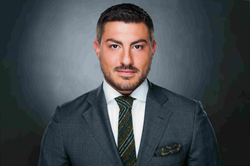 (PRWEB) June 02, 2016
Sam Real, a broker of Sam Real Group in the West Hollywood, California, market, has joined––along with other exclusive partners, such as Jeff Hyland, Joyce Rey, and The Altman Brothers––the prestigious Haute Residence Real Estate Network.
The Haute Residence Real Estate Network of Hauteresidence.com, affiliated with luxury lifestyle publication Haute Living, is proud to recognize Sam Real as a prominent real estate professional and the network's newest partner.
Designed as a partnership-driven luxury real estate portal, Haute Residence connects its affluent readers with top real estate professionals, while offering the latest in real estate news, showcasing the world's most extraordinary residences on the market and sharing expert advice from its knowledgeable and experienced real estate partners.
The invitation-only luxury real estate network, which partners with just one agent in every market, unites a distinguished collective of leading real estate agents and brokers and highlights the most extravagant properties in leading markets around the globe for affluent buyers, sellers, and real estate enthusiasts.
HauteResidence.com has grown to be the number one news source for million-dollar listings, high-end residential developments, celebrity real estate, and more.
Access all of this information and more by visiting: http://www.hauteresidence.com
About Sam Real:
Sam Real has sold more than $170 million dollars collectively. Recognized as one of the premier residential agents in Los Angeles, he continues to provide results to his clients on an unprecedented level.
Real's ability to analyze market trends and current values is distinguished among clients and colleagues alike. He is very experienced in assessing the benefits and drawbacks of various property alternatives toward meeting his clients' investment criteria. The personal attention he gives to each and every client has given him an exceptional reputation within the real estate industry. In 2014, Real was number one in sales in the Bird Streets, famously known for hosting some of the most prestigious real estate in the Hollywood Hills.
Although his primary focus is in the areas of Bel Air, Beverly Hills, and Hollywood Hills, Real is involved with real estate transactions across the country with national and foreign investors alike. In addition to his local listings, he has listed properties internationally in countries such as France, Greece, and Mexico.
To learn more, visit Sam Real's Haute Residence profile: http://www.hauteresidence.com/member/sam-real