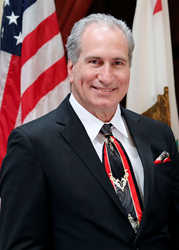 I have found the framework and mission of KGI's School of Pharmacy to be nothing short of innovative, and timely, and I am certain these students will go on to be leaders in their fields.
Claremont, California (PRWEB) June 02, 2016
Keck Graduate Institute (KGI) School of Pharmacy is proud to announce that California State Senator Jeff Stone (R) of the 28th Senate District will be the guest speaker at the annual White Coat Ceremony on August 20, 2016.
Symbolizing dedication to clinical service and patient care, the White Coat Ceremony is held every year when new students enter into KGI's PharmD program. During the ceremony, colleagues already in the profession give each student a white coat, signifying the beginning of the student's career in pharmacology. For students whose parents are pharmacists, the white coat is given by that respective parent.
Committed to ensuring each student is prepared for a successful career, KGI's School of Pharmacy offers concentrations and a certificate program that include: Healthcare Operations Management, Clinical Trials/Regulatory Affairs, Medication Therapy Outcomes, and Health Information Technology.
Ceremony speaker Senator Stone was elected in 2014 to represent the 28th State Senate District, which stretches from Southwest Riverside County (Temecula, Murrieta, and Palm Springs) to the Arizona border.
Having lived in Southern California his entire life, Senator Stone made the move to Temecula because he believed it was one of the best places to open a business and raise a family. In 1983, he opened his first small business, the Temecula Pharmacy, and began building his strong ties and local involvement within the community. In 1992, he began expanding his public service involvement when he ran and was elected to the Temecula City Council, serving for three terms.
Senator Stone served as mayor of Temecula until elected to the Riverside County Board of Supervisors in 2004. His election to the Board was an illustration of how effective his term on the City Council had been. Senator Stone successfully beat an incumbent and was re-elected to the Board in 2008 and 2012. Prior to being elected and sworn into the State Senate, he served as chairman of the Board of Supervisors.
As state senator, he embraces the philosophy of a fiscally responsible and more efficient government that is less intrusive and more productive for its citizens. Public safety is a top priority of his, and he looks forward to continuing the work he did as a county supervisor, where he created the county's emergency reserve fund, streamlined the county's property assessment system to help financially distressed families keep their homes, created the county's Internet juvenile sexual predator interdiction program, passed a county resolution making it easier for law abiding citizens to carry concealed firearms for personal protection, and cut transportation mitigation fees by half to promote economic growth.
One of Senator Stone's proudest accomplishments came several years ago when he advocated creating a second tier for new hires and raising the employee portion of the pension contribution, saving taxpayers millions while maintaining vital county services over the long term.
In addition to his work at the local government level, Senator Stone continues to own and operate his local business, Innovative Compounding Pharmacy, where he is able to maintain an active role and connection to the pharmacy industry.
Explaining why he chose to speak at KGI's White Coat Ceremony, Senator Stone said: "While I am committed to serving my community as a state senator, I am also dedicated to the pharmacy industry. I believe that the work pharmacists do can improve the lives of their patients, and I want to be here to welcome this new class of pharmacy students into the profession. Additionally, I have found the framework and mission of KGI's School of Pharmacy to be nothing short of innovative, and timely, and I am certain these students will go on to be leaders in their fields."
Senator Stone is a graduate of USC, where he earned a Doctor of Pharmacy degree. He has taught graduate nursing students seeking their master's degree in nursing at Cal State Dominguez Hills as an assistant professor of pharmacology and also served as an externship professor for the USC School of Pharmacy.
KGI's mission is to enrich society with breakthrough approaches to education and translational research in the life sciences. By offering customized curricula and real-world experiences, KGI's School of Applied Life Sciences and School of Pharmacy prepare students to excel in a wide range of professional endeavors, blending innovative science with sound business practice, and provide training in the safe, efficient, and ethical use of technology and biotechnology for the benefit of society.