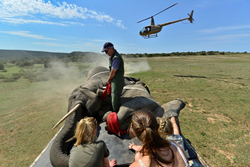 We love the fact that we can offer our guests the value of not only a unforgettable experience but the satisfaction of supporting the communities they visit
Delray Beach, Fla. (PRWEB) June 02, 2016
In honor of World Environment Day, African Travel, Inc. continues to expand their philanthropic programs and partnerships both in Africa and around the globe. The safari outfitter, who was named the "Best Tour Operator to Africa" by Recommend readers and one of Travel + Leisure's "World's Best," is proud to be an active co-founder and supporter of dozens of initiatives including The TreadRight Foundation, WWF, Conservation International and WildAid, and is now helping to spearhead conservation efforts in the Shamwari Game Reserve.
"We are proud to support a wide variety of projects and partners, including more than 35 sustainable tourism projects worldwide through TreadRight alone," said Sherwin Banda, president of African Travel, Inc. "It is our ultimate goal to provide our guests with the safari of their dreams while making a meaningful difference in the world, and we love the fact that we can offer our guests the value of not only a unforgettable experience but the satisfaction of supporting the communities they visit."
Shamwari, known as a luxury safari destination, is a malaria-free Big Five game reserve that has established itself as a leader in conservation and eco-tourism. Current long-term projects include game monitoring, restoration and rehabilitation of reserve landscapes, research projects, the Animal Rehabilitation Centre, and community projects, among others. The TreadRight Bat Hawk represents another initiative, partially funded by African Travel, utilizing a specially-designed sport aircraft to help combat poachers.
African Travel guests can experience the beauty of Shamwari and witness its numerous conservation projects firsthand on "Marine & Wildlife Encounter – Luxury," an 11-day exploration of Cape Town, Oudtshoorn, Plettenberg Bay and the Eastern Cape Game Reserve. Beginning in Cape Town, guests explore the "Fairest Cape" peninsula and visit the Cheetah Outreach on the way to the winelands. In Oudtshoorn, the "Ostrich Feather Capital of the World," guests relax in a farm-style lodging at an authentic Victorian homestead. Three days in Plettenberg Bay allows plenty of time for close encounters with monkeys, birds and elephants (plus an ecological boat trip searching for dolphins and whales). The adventure concludes with three nights in Shamwari's Sarili Lodge, enjoying twice-daily game drives and unforgettable accommodations.
For more information and to book an exciting dream safari for your clients, contact African Travel, Inc. at (800) 421-8907, or visit africantravelinc.com.
CST 2071444-20