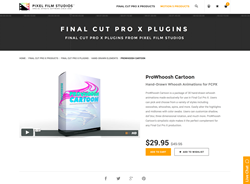 ProWhoosh Cartoon comes with 30 hand-drawn whoosh animations that are sure to liven up any project
Aliso Viejo, California (PRWEB) June 06, 2016
"ProWhoosh Cartoon comes with 30 hand-drawn whoosh animations that are sure to liven up any project," said Christina Austin - CEO of Pixel Film Studios.
ProWhoosh Cartoon is a package of 30 hand-drawn whoosh animations made exclusively for use in Final Cut Pro X. Users can pick and choose from a variety of styles including swooshes, whooshes, spins, and more. Easily alter the highlights and midtones with color swabs. Users can customize shadow, dof blur, three dimensional rotation, and much more. ProWhoosh Cartoon's simplistic style makes it the perfect complement for any Final Cut Pro X production.
ProWhoosh Cartoon's package transforms over 700 hand-drawn pictures into exciting whoosh animations all fully customizable all within Final Cut Pro X. Simply select a ProWhoosh generator and drag it above media or text in the Final Cut Pro X timeline. Stretch the generator to slow the animation and shrink the ProWhoosh presets to speed it up.
With ProWhoosh Cartoon each preset is fully customizable with a click of a mouse. Users have total control over highlight color, shadow color, drop shadow, angle of view, dog blur amount, focus offset, x rotation, y rotation, z rotation, intensity, glow amount, exposure, and more. Each user has the option of applying an effect overlay to each generator preset located within the effects tab.
ProWhoosh Cartoon simple and easy to use on-screen controls give each user total control over x rotation, y rotation, z rotation, overall scale, and position. With easy to use on-screen controls users can place each whoosh generator in the perfect position or angle with just a click of a mouse all within FCPX.
With ProWhoosh Cartoon there are 16 effect overlays that users can apply to each preset with a click of a mouse. Each user has the ability to select from applying an aura, bloom, colorization, drop shadow, glint, glow, halftone, hatched screen, highpass, indent, inner and outer glow, lens imperfections, line art, line screen, pixellate, and RGB split. With each effect overlay users have total control over stylization all within Final Cut Pro X.
ProWhoosh Cartoon was professionally designed to work seamlessly inside of Final Cut Pro X. As an effect, each ProWhoosh Cartoon preset can be dragged and dropped onto media and previewed in real time. With the published parameters found in the FCPX inspector, users have the ability to make further adjustments with just a few clicks of a mouse.
Established in 2006, Aliso Viejo, California-based Pixel Film Studios is an innovative developer of visual effects tools for the post-production and broadcast community. Their products are integrated with popular non-linear editing and compositing products from Apple FCPX. Apple, the Apple logo, Mac OS X, and Macintosh are registered trademarks of Apple Inc. in the U.S. and/or other countries. All other trademarks and trade names are the property of their respective owners.