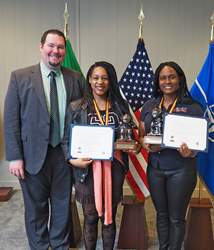 Suitland, MD (PRWEB) June 06, 2016
Andrews Federal Credit Union sponsored the 2016 Installation Volunteer Awards Ceremony at the SHAPE Club, located on S.H.A.P.E., outside of Mons, Belgium.
The annual event, hosted by Army Community Service (ACS), honors the many volunteers within the SHAPE/Chievres Air Base Community for all they do to help out within the community. Winners are selected from five categories, with each receiving a medal, certificate and a Bronze Mons Monkey. The Monkey, a statue located outside the City Hall in Mons, Belgium, is a local symbol of achievement.
Two of the winners this year were a mother and daughter. Beautiful Lawson won for the category of Youth Volunteer of the Year and her mother, Army Master Sergeant Rhonda Lawson, won for the category of Active Duty Volunteer of the Year. Collectively, they amassed over 600 volunteer hours over the last year.
"Andrews Federal Credit Union is proud to be able to sponsor this great event honoring the sacrifice and service that every volunteer in our community puts forth," said Joshua Barrett, Chievres Branch Manager. "Our Community would not be what it is without the many volunteers that give selflessly of their valuable time, effort and energy."
About Andrews Federal Credit Union
Andrews Federal Credit Union was founded in 1948 to serve the needs of military and civilian personnel by providing a vast array of financial products and services. With over $1 billion in assets, Andrews Federal has grown to serve more than 113,000 members in the District of Columbia, Joint Base Andrews (MD), Springfield, Virginia (VA), Joint Base McGuire-Dix-Lakehurst (NJ), and military installations in central Germany, Belgium, and the Netherlands. In addition, the Credit Union serves as a financial partner with many select employee groups in Maryland, the District of Columbia, and New Jersey.
To learn more about Andrews Federal Credit Union and its community involvement, or to become a member, call 800.487.5500 or visit http://www.andrewsfcu.org.