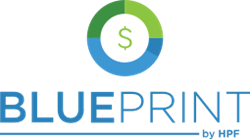 MX platform users report an average 20% increase in savings over the first four months of use compared to non-users.
Minneapolis, MN (PRWEB) June 07, 2016
BluePrint by HPF, a digital money management app designed and powered by one of the fastest-growing fintech providers, MX, today was launched to all U.S. consumers at Google Play and Apple App stores – free of charge, ads or product solicitations – by a national nonprofit, Homeownership Preservation Foundation (HPF).
What makes BluePrint by HPF unique among money management apps available on the market?

More Accurate Tracking of Spending – A powerful MX aggregation engine pulls data 24/7, cleansing and categorizing spending transactions with the most reliable accuracy when compared to competitors;
Less Time Managing Budgets – Once a budget is set, transactions are automatically refreshed each time you open the app, and email alerts notify users when budgets are exceeded;
More Dollars Saved – MX platform users report an average 20% increase in savings over the first four months of use compared to non-users.
Those who use BluePrint by HPF also will know they can depend on a HPF HOPE Hotline – 888-995-HOPE (4673) counselor or a HPF HOME Hotline – 844-995-HOME (4663) coach. By working with a counselor or coach to create a personalized, client action plan, those who use BluePrint by HPF can better avoid foreclosure, or qualify for a mortgage to purchase a home.
"HPF's goal is to help all consumers better manage their spending and debt to move more quickly toward achieving their personalized vision of the American Dream of home," says David Berenbaum, HPF's Chief Executive Officer. "Our partnership with MX moves us significantly closer to meeting this goal. MX will power BluePrint by HPF with the most reliable data aggregation services on the market today and an award-winning user interface."
According to HPF, the communities most affected by America's recent financial crisis are in need of customized coaching, supported by cutting-edge technology.
More than eight million Millennials are now looking to qualify for a mortgage by better managing student loan debt, and purchase their first home. They'll compete with Gen X-to-Y borrowers who suffered the loss of their homes during the foreclosure crisis and are now considering getting back into the housing market. Meanwhile, growing numbers of working Baby Boomers unable to retire are looking to downsize.
"HPF wants to see more consumers of diverse gender, age, income or race have access to sustainable mortgage loans and become long-term homeowners," Berenbaum said.
About BluePrint by HPF
BluePrint by HPF, powered by MX, provides users with the ability to view all of their financial accounts in one place, accurately categorize transactions, automatically generate budgets, manage debt and cash flow, see net worth, set financial goals and more. Elements of gamification (Bubble Budget feature) draw consumers of any age into the app.
Those who use BluePrint by HPF also will register at HPFConnect.org, a new, consumer portal designed to meet the evolving needs of more than two million consumers who received HPF network counsel since 2007. HPFConnect has plans to expand online tools to more than 1,500 consumers who reach out to HPF's HOPE or HOME Hotlines every business day.
About MX
MX enables banks and credit unions to achieve record breaking growth by winning their competitor's most profitable account holders. As one of the fastest-growing fintech providers, MX drives customer-centric banking relationships by gathering and providing data upon which online and mobile banking partners and financial institutions can create and deliver next generation banking applications and solutions.
Founded in 2010, MX delivers data aggregation, data cleansing, auto-categorization, classification, money management, custom API, data analytics, marketing, UI and more. In addition, MX offers an extensive array of client services, ranging from training to custom marketing services. MX currently partners with more than 650 financial institutions and more than 35 digital, online and mobile banking providers — designating MX as a proven powerhouse in the fintech space. Learn more at MX.com.
About HPF
Based in Minneapolis with offices in Washington, D.C., Homeownership Preservation Foundation (HPF) is an independent, national nonprofit dedicated to guiding consumers on a path to sustainable homeownership by improving their financial health. Learn more at HPF.