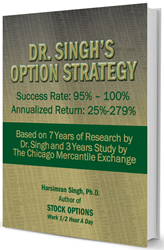 Why trade Stocks/Futures while it's possible to be successful in trading options consistently for 95% of the times!
NYC, NY June 7, 2016 (PRWEB) June 07, 2016
Dr. Singh is now ready to provide a webinar to reveal the details of his research that leads to a success rate of 95% in options trading. This webinar will cover the following topics.
How to be successful consistently in trading options whether the stock market is bull, bear or flat. How to take the guess work out when selecting a portfolio of stocks. How can options trading be made safer than trading stocks or futures. The reasons why most people lose money in trading options.
When asked how he came up such a strategy, he answered, " I always thought that it was not possible to make big financial gains without taking big risk. But my thinking changed after I wrote the book, 'How 12 Top Investors Made Billions In Stocks'. Some started their journey to success with hardly enough money for a cup of coffee.These 12 billionaires taught me how to be successful while minimizing risk. Previously I wrote, 'Stock Options - Work 1/2 Hour A Day'. I wrote about 28 strategies to trade options. But I did not write about any minimal risk strategies, as I did not know any. I traded options for about 35 years, at times $100 millions/ month in my account. I discovered the options strategies with minimal risk. I filed my research record of 95% success rate with The US Patent Office."
During 2015, he recommended 57 trades to his Clients and 56 were successful. He was awarded a Ph.D. by a California University for his research in options trading strategies.
Dr. Singh provides a free weekly tips through his newsletter, free webinars and a free book on options trading.
Click here to register for the webinar on Thursday, June 9, 2016 at 8:00 PM EST or for another date and time. Seats are limited to maximum of 100 so Dr. Singh could answer every one's questions.