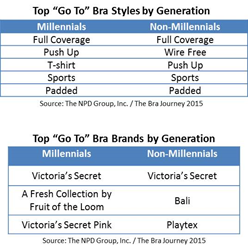 "Seamless bra styles are increasingly top of mind for consumers of all ages, especially Millennials, and can no longer be an afterthought for manufacturers and retailers," said Marshal Cohen, chief industry analyst, The NPD Group, Inc.
Port Washington, New York (PRWEB) June 06, 2016
Sports bras are the go-to bra for Millennials. With sizing ease and long-term comfort top-of-mind, Millennials start their bra wardrobe with sports bras and these seamless, activewear bras remain a wardrobe staple. While 41 percent of Millennials said they wore a sports bra in the past seven days, that number was much lower, just 21 percent, among non-Millennial women, according to the 2015 Bra Journey Insights report from global information company The NPD Group.
Millennials and non-Millennials alike put availability of their size, long-term comfort, durability, and support at the top of their bra brand purchase decision, but Millennials also focus on coverage and instilling a feeling of confidence in their body. Non-Millennial's keep their emphasis on style, coverage, and quality.
"Comfort is a dominant theme throughout the fashion world, and today's bra consumer, especially Millennials, is seeking both physical and personal comfort," said Marshal Cohen, chief industry analyst, The NPD Group, Inc. "The characteristics and simplicity of sports and seamless bras are a natural fit in this comfort-focused environment, while providing more fit flexibility and ease of shopping. Brands that take note of these key elements will be more likely to stay with Millennials as they mature."
(see table image)
"Sports bras, and similar seamless styles need to be part of a brand's merchandising strategy," added Cohen. "Seamless bra styles are increasingly top of mind for consumers of all ages, especially Millennials, and can no longer be an afterthought for manufacturers and retailers."
Source: The NPD Group, Inc. / The Bra Journey 2015