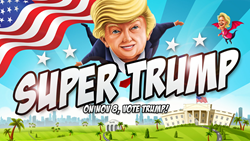 We decided to make a top quality, fun, and hilarious game that honors Donald Trump and pays tribute to his successful career and his amazingly successful run for president
Edmonton, Canada (PRWEB) June 08, 2016
Cube Software Solutions Inc. just released a new iPhone game app featuring an American super hero character based on Donald Trump called, Super Trump - Make America Great Again. The game has been designed to appeal to supporters of the real estate tycoon and his run for president.
Cube Software Solutions' game comes at a time when mobile app stores are being flooded with Donald Trump games. Many of the games featuring characters based on Mr. Trump are considered disrespectful by the presidential hopeful's supporters and appear to mock the successful real estate mogul. Cube Software Solutions created the Trump friendly game in response to the many low quality games that portray Donald Trump in a negative light.
"…as a business owner myself, I truly appreciate and respect what Donald Trump has done in the business world. It is my opinion that people do not give him nearly enough credit for what he has accomplished. So when we started seeing low quality games where the goal is to have birds poop on Donald Trump we took issue with that. We decided to make a top quality, fun, and hilarious game that honors Donald Trump and pays tribute to his successful career and his amazingly successful run for president thus far. I just hope that if he ever sees the game that he likes it, feels that it is respectful to him, and that he considers it a great compliment." – Greg Ellis, President, Cube Software Solutions Inc.
Cube Software Solutions Inc. has taken a pro Trump approach in creating an iPhone game that glorifies a character based on Donald Trump as an American super hero that must fight evil, "crooked" enemies as the character travels through the country being propelled by the American flag. The game features funny sound bites, polished graphics, and solid game play. A short video preview of the game can be seen at the following link https://www.youtube.com/watch?v=OapLu3Nl2gk
Not surprisingly, Edmonton-based Cube Software Solutions Inc. has received a very mixed response to their newly released game. Trump supporters are loving the game, but the anti-trump crowd is outraged.
"...we have received some very emotionally charged feedback from the anti-trump crowd, but at the same time we have also received a very positive response from supporters of Donald Trump that think the game is hilarious and fun. Politics is very polarized by nature so it's not a big surprise that half the people are upset and the other half are thrilled. However, at the end of the day it is just meant to be a fun game and we feel that people need to lighten up a bit and not take it too seriously." – Marvin Schroeder, Vice President, Cube Software Solutions Inc.
The race for president is heating up to a fever pitch. As things look to get even more heated this game is a much needed comic relief from the seriousness of the 2016 presidential election.
The controversial game is available in the Apple app store and can be downloaded from the following link http://apple.co/1rbJKNR