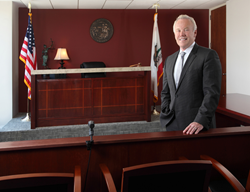 "I have always been dedicated to the underdog through my law practice, but my commitment extends far beyond our borders. We all have to fight for the safety, well-being and dignity of all people whether they reside in the U.S. or not."
Newport Beach, CA (PRWEB) June 08, 2016
Prominent Newport Beach attorney West Seegmiller has accepted an invitation to speak before a gathering of nationally known entrepreneurs at the United Nations in New York City on June 15 about the exploitation of impoverished workers around the world by profit-seeking companies in America. The personal injury attorney is one of several speakers who will attend the Global Entrepreneurship Initiative during which experts will address pressing issues of importance affecting entrepreneurs who are responsible for employing the vast majority of employees in the U.S.
"I have made it my mission to shine a light on the issue of American companies, mostly those involved in the manufacturing arena, exploiting the poor in developing nations simply to save costs," said Seegmiller, who operates 8 offices in California and Las Vegas. "I have always been dedicated to the underdog through my law practice, but my commitment extends far beyond our borders. We all have to fight for the safety, well-being and dignity of all people whether they reside in the U.S. or not."
Seegmiller, a former California State Pro-Tem Judge, is known for taking on large, well-known entities like Coca Cola (Louis Groharing v. The Coca Cola Company, OC Superior Court Case No. 30-2009-00121655-CU-PA-CJC), Southern California Edison (SCE) (case 30-2012-00552738-CU-PO-CJC Orange County Superior Court), Rockwell International (Kevin Murphy v. Rockwell International, Sacramento County Superior Court Case No. 321526) and, most recently, TGI Fridays (case RIC1100955, Operative Facts pg 5) and emerging victorious, earning his clients multi-million dollar verdicts. He has generated interest in his practice by building reproductions of actual courtrooms complete with judge's bench, jury box and tables for the plaintiff and defendant at his offices. This isn't an aesthetic consideration, but rather a functional space for him to conduct "pre-trials" of his cases. He hires mock "juries" to hear his cases first so that he can gain their feedback. He then shapes and reshapes his arguments so when he tries the case in front of an actual jury, nothing is left to chance.
Seegmiller became an "advocate for the underdog" due to personal circumstances. While in his 20s, he was involved in a devastating motorcycle accident that required months of painful treatments to recover from his injuries. He sought justice for himself and it inspired him to help others. He earned a Bachelor's degree in political science at the University of California Davis, Master's degree from the University of Southern California and his Juris Doctorate from the McGeorge School of Law University of the Pacific in Sacramento. There, he was selected to participate in the highly competitive Traynor National Moot Court Team and was a member of the prestigious Pacific Law Review.
He continues to educate himself and expand his knowledge in the legal field by honing his skills in the practice by attending both the Harvard Law School Program of Instruction for Lawyers, as well as, The Jerry Spence Trial Lawyers College. He is a member of the Professional Association of the Consumer Attorneys of Los Angeles, American Bar Association, Consumer Attorneys of California and the American Association for Justice.
Visit http://www.WestAllianceInjuryLawyers.com.
*****