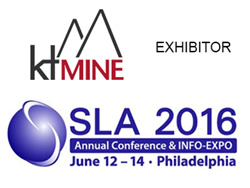 Chicago, Illinois (PRWEB) June 07, 2016
ktMINE, an innovation and intellectual property information services firm, announced today that they will be a first-time exhibitor at the Special Libraries Association (SLA) 2016 Annual Conference & Info- Expo, taking place from June 12-14, 2016, in Philadelphia, Pennsylvania. The conference is the largest meeting of special librarians and information professionals in North America.
ktMINE's Cash McNeel, Business Development Manager, and Laura Sorg, Marketing Manager, will be representing ktMINE at booth #226 in the INFO-EXPO hall. As a first-time exhibitor, they will be showcasing ktMINE's Search App, the only all-in-one search of intellectual property that brings billions of data points to users fingertips through a single platform. With advanced search building, precise filters, and quick analytics, information professionals are able to significantly expedite the research process of IP.
SLA 2016 Annual Conference brings together Information Professionals, Collections Managers, Research/Intelligence Professionals, Information Center Managers, Knowledge Managers, Web Developers, Information Analysts, Consultants, Content Managers, Educators, Content Rights Managers, and Library/Information School Students for networking and learning. The conference will feature over 200 events, including educational programs, networking events, receptions, and tours. Hot topics will be Finding Buried Treasure: Digging up Competitive Intelligence, What's Next? – featuring Dr. Donald Marinelli, Do More with More: You Can't Shrink Your Way to Success, and Automated Wisdom: Achieving Value from Big Content.
About ktMINE
ktMINE, headquartered in Chicago, IL, is an innovation and intellectual property information firm founded in 2008. Focused on mining, organizing and connecting the world's IP information, ktMINE provides businesses across the globe access to insights on industry players, technologies, and developments. For more information visit http://www.ktmine.com, or contact ktMINE to schedule a meeting.