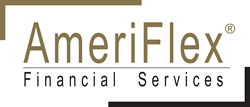 Santa Barbara, California (PRWEB) June 08, 2016
AmeriFlex® Financial Services (AmeriFlex®), a Santa Barbara based financial services company, announced Monday, June 6, 2016, the addition and integration of four associated offices: San Luis Obispo, Westlake Village, Ventura and Woodland Hills, California.
"Financial Advisors continue to join the AmeriFlex® Network due to the services we provide. We assist them in growing their assets under management and help them increase their gross revenue. Most importantly, we help them streamline and maintain client facing firm services and deliverables," said Thomas Goodson, CEO of AmeriFlex®.
"We continue to offer new tools to support advisors' successful businesses as they face continued hurdles; DOL/Fiduciary Rule Change(s), practice management, and customized marketing solutions to grow their practices," said Jesse Kurrasch, Director of Advisor Relations.
----Diana Y. Heu is a Partner and CIO for AmeriFlex® Financial Services.