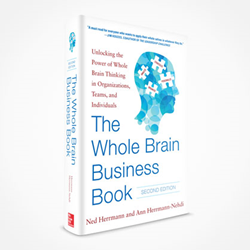 Lake Lure, NC (PRWEB) June 08, 2016
The Whole Brain Business Book, Second Edition, has been named a Community Choice Winner in the 2016 Small Business Book Awards in the category of Economics. The Small Business Book Awards celebrate the best business books that appeal to entrepreneurs, small business owners, CEOs, managers and their employees.
Co-authored by Ann Herrmann-Nehdi, CEO of Herrmann International, and her late father, Ned Herrmann, who founded the company, The Whole Brain® Business Book, Second Edition: Unlocking the Power of Whole Brain Thinking in Organizations, Teams and Individuals (McGraw-Hill) is a fully revised and enhanced edition of Herrmann's classic guide to applying what we know about the brain to improve business results. With updated research and new case examples, charts, action steps and exercises, the second edition gives readers a comprehensive roadmap for putting their whole brain to work to meet the challenges of 21st century business.
"The Small Business Book Awards are a way to acknowledge the books that small business owners and entrepreneurs appreciated over the past year," says Ivana Taylor, Book Editor at Small Business Trends, which produces the Awards. The Community Choice Winners received support from the community and accrued the largest number of votes in their respective categories.
"We're grateful for and inspired by the outpouring of support from leaders and professionals around the world who took the time to vote and comment about the book's impact on their businesses and personal lives," says Herrmann-Nehdi. "This recognition will open up more readers to the opportunity to build their thinking agility and use the most powerful resource they have—the brain—to stay ahead of change, get more creative, manage through complexity and outthink the competition."
Says Anita Campbell, whose company Small Business Trends founded and produced the Awards, "The companies and professionals who support authors are dedicated to their craft and to those they serve. The Community Choice Winners deserve this recognition."
About The Whole Brain® Business Book, Second Edition
The Whole Brain® Business Book, Second Edition, is a completely revised and enhanced update of Ned Herrmann's classic guide to Whole Brain® Thinking, one that has provided a generation of leaders with a new road map for thinking, using brain-based methods to increase productivity, drive innovation and ignite performance. Herrmann's daughter and co-author, Ann Herrmann-Nehdi, has taken the pioneering concepts and techniques of the original and applied them to 21st century business realities and the specific needs of today's complex global economy. In addition to the latest brain research, stories, data and new "mind hacks," the book features timeless tips for getting unstuck, identifying the four thinking preferences, optimizing management approaches and fully engaging the brain to work smarter, faster and more effectively. More information: http://www.wholebrainbusinessbook.com and http://www.HerrmannSolutions.com.
CONTACT:
Betsy Summers
Director of Marketing & Product Management
Herrmann International
betsy.summers(at)hbdi(dot)com
828.348.6386
Web: http://www.herrmannsolutions.com
About the Small Business Book Awards
The 2016 Small Business Book Awards are now in their 8th year. More than just an honor, the Awards are a unique social online event that enables the small business community to nominate, show their support for, and vote on their favorite business books. The Awards combine recognition for a job well done, honors and prestige -- along with providing a high-profile opportunity for authors to engage with fans, network through social media, and increase publicity. The Small Business Book Awards are produced by Small Business Trends, an award-winning online publication, which along with its sister sites, serves over 6,000,000 small business owners, stakeholders and entrepreneurs annually. Small Business Trends for the past five years has published weekend reviews of small business books, amassing hundreds of independent reviews.
CONTACT:
Small Business Trends
admin(at)smallbiztrends(dot)com
888.842.1186
Web: SmallBizBookAwards.com
Twitter hashtag: #BizBookAwards