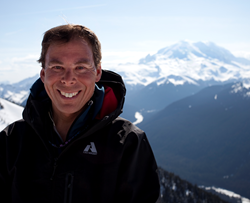 Brent is a mentor, leader, and above all an inspiration to all mountaineers.
Mt. Rainier, Washington (PRWEB) June 09, 2016
RMI Expeditions (RMI) announced today that Brent Okita, a professional mountain guide with RMI, has become the second person to reach the summit of 14,410' Mt. Rainier 500 times!
To put this in perspective, Brent has logged over 9,000,000 vertical feet on Mt. Rainier throughout his 30-year career. "Brent is a mentor, leader, and above all an inspiration to all mountaineers," said Peter Whittaker, owner of RMI. "The fact that Brent has challenged himself on this mountain for 30 years and successfully summited Rainier 500 times is extraordinary. Even more amazing, Brent continues to climb at the pace of a 20-year-old guide and will likely climb Rainier another 20 times this summer...his endurance and fitness are unmatched."
Brent, 55, has worked at RMI since 1986 as a professional climbing instructor and guide, leading teams of climbers on ascents of Mt. Rainier. In that time, he has also reached the summit of Mt. Everest (via the North Side) and led over two dozen RMI guided parties up 20,310' Denali in Alaska, the highest mountain in North America. Other ascents to his credit include Vinson Massif (Antarctica), and several expeditions to the French, Swiss, and Italian Alps (Mont Blanc, Matterhorn, Monte Rosa, Jungfrau).
Setting records is not Brent's motivation; his 500 summits of Mt. Rainier are a natural consequence of his tenure with RMI and dedication to the sport of mountaineering. With no thoughts of retirement, Brent plans to continue guiding climbers on Mt Rainier and Denali for the foreseeable future. In the winter months he pursues his love of skiing, working for Crystal Mountain Ski Patrol. He and wife, Julie, make their home in Enumclaw, WA, where they enjoy bicycling and hiking.
About RMI Expeditions
RMI Expeditions, also known as Rainier Mountaineering, Inc., was founded by legendary climber Lou Whittaker in 1969. Located in Ashford, Washington, at the base of Mt. Rainier, it is the largest professional mountain-guide service in the United States, and is staffed by the most experienced and talented guides in America. Nearly 65 guides work on Mt. Rainier, Denali and around the world on Everest (Nepal), Elbrus (Russia), Aconcagua (Argentina), Kilimanjaro (Tanzania), Vinson Massif (Antarctica) and many others.
RMI has built a four-decade long legacy of safe, successful, and enjoyable mountaineering adventures. Visit http://www.rmiguides.com for more information.