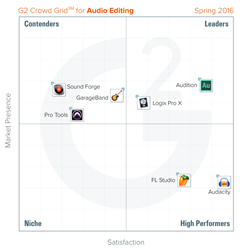 (PRWEB) June 09, 2016
G2 Crowd, the world's leading business software review platform, today released the Spring 2016 Audio Editing Software Grid report to help businesses make the best audio editing technology decision. Audition and Logic Pro X were named Leaders in the report, receiving strong customer satisfaction scores with a large market presence.
Audacity and FL Studio were named High Performers in the report, earning strong customer satisfaction marks with smaller market presence scores. Audacity earned the highest overall satisfaction score, while Audition earned the highest overall market presence score.
The Grid leverages customer satisfaction data reported by authenticated users along with vendor market presence determined from social and public data. Based on a combination of these scores, each software solution is categorized as a Leader, High Performer, Contender, or Niche.
Key Findings:
•Video editing integration — Users of several products wrote that they use their audio editing tool alongside video editing tools. For some users, they selected an audio editing tool largely for its integration with a video tool.
•Power vs. price — Users of every tool in the report weighed a product's benefits against its price. Free and cheaper products provided tools that may not satisfy advanced users, while users said products with high-priced subscriptions may be too advanced for beginners.
•Stability — Stability was important for many reviewers. Some had issues with resource-intensive products and others struggled with bugs and crashes. However, reviewers praised products that are lightweight or reliable.
About the Audio Editing Grid report:
•The report is based on more than 185 reviews written by business professionals.
•Of the roughly 29 products listed in G2 Crowd's audio editing category, the ranked products each received ten or more reviews to qualify for inclusion on the Grid.
About G2 Crowd, Inc.
G2 Crowd, the world's leading business software review platform, leverages more than 75,000 user reviews to drive better purchasing decisions. Technology buyers, investors, and analysts use the site to compare and select the best software based on peer reviews and synthesized social data. Monthly more than a half-million people visit G2 Crowd's site. Co-founded by the founder and former executives from SaaS leader BigMachines and backed by roughly $12 million in capital, G2 Crowd aims to bring authenticity and transparency to business technology research. For more information, go to G2Crowd.com.