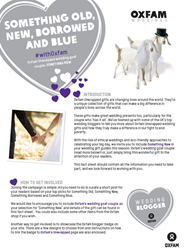 Oxfam had a clear message to deliver and one Click Consult fully believes in: We Won't Live With Poverty... the campaign we designed for them was with this intention firmly in mind
(PRWEB UK) 9 June 2016
Click Consult has won one of marketing's most prestigious awards – The Drum Search Award for Best Charity/Not for Profit Campaign for SEO – for its innovative search campaign for Oxfam Unwrapped, featuring social media, earned media and design work.
Click Consult's role was to increase awareness of this brand through an organic search (SEO) strategy encompassing content marketing, blogger outreach and social amplification.
Oxfam's Unwrapped project encourages people to buy from their charity gift range, with the proceeds helping to transform lives through the alleviation of poverty.
In order to accomplish the client's aims, Click Consult developed an extremely effective organic search campaign featuring a wide variety of visual and written assets, aiming to use the quality of the material to earn organic links through blogger engagement and social amplification.
Using a variety of search marketing tools, including Click Consult's own TRAX technologies, Click identified and reached out to relevant bloggers from across a segmented spectrum of interest groups for collaboration.
Click's Content and Design teams created unique, shareable, high quality content, including factsheets and visual assets, crafted to specifically resonate with the bloggers themselves and that would be meaningful, compelling and interesting for their audiences. This supported the bloggers to create their own posts, to help them ethically increase their reach and maximise their ability to drive their audience to join the campaign and visit the Oxfam site to purchase the charitable gifts.
Matt Bullas, founder and CEO of Click Consult, says:
"Oxfam had a very clear message to deliver – and one Click Consult fully believes in: 'We Won't Live With Poverty'. The charity wanted to increase visibility and leads for Oxfam Unwrapped UK, and the campaign we designed for them was with this intention firmly in mind.
"The campaign's success has been based on building a community of bloggers who are not only sharing the content we have created, but are welcomed into the campaign's family – by the badges, the provision of unique assets, direct and open communication on social media with Oxfam, raising awareness across the board and giving something back to bloggers who wanted to push out and amplify an important social message."
About Click Consult:
Located in North West England, Click Consult is a multi award-winning search marketing agency with a focus on organic (SEO) and paid search (PPC), with over 70 professionals employed and with a portfolio of over 80 clients from across the UK.
The agency also provides a range of other services, including content, outreach, social engagement and conversion rate optimisation (CRO), as well as international and multilingual search marketing. Click Consult is a Google AdWords and Microsoft adExcellence certified company.
Click Consult was a finalist in the European Search Awards 2016, has been shortlisted by the Recommended Agencies Register (RAR) Digital Awards 2016, ranked within Econsultancy's 'Top 100 Digital Agencies' in 2015, and named as one of Prolific North's 'Top 50 Digital Agencies' in 2016.
Click Consult's client portfolio includes Truprint, Chill Insurance, Netflights, Virgin Balloons, ABTA, LloydsPharmacy Online Doctor and Act-On.