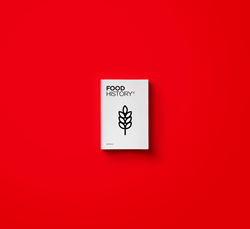 "Food history is human history," says founder and creative director Alberto Arza, "And most people don't know that thanks to the variations in our diet and to cooking our food, we have become what we are currently (physically and intellectually)."
Valencia, Spain (PRWEB) June 13, 2016
Food History, a visually beautiful book that explains how the relationship between food and human beings has evolved throughout history, is currently live on Kickstarter and raising funds to bring the project to life.
Papila is the first design studio that specializes in food. Their work is centered on the investigation, design, and innovation projects which revolve around everything regarding the dining experience.
"Food history is human history," says founder and creative director Alberto Arza, "And most people don't know that thanks to the variations in our diet and to cooking our food, we have become what we are currently (physically and intellectually)."
Papila has taken their years of experience of exploring food and our relationship to creating a beautifully design book titled simply, 'Food History.' In the book, the creators chronologically go over the landmarks of different periods in history (Paleolithic, Neolithic, Metal Age, Ancient Egypt, Ancient Greece, Ancient Rome, Middle Ages, Modern Age and Contemporary Era), starting with the moment when fire was discovered and hence became the origin of cookery, to the improvements in agriculture and livestock farming, the first fermentations used in food, and more.
The book remains playfully illustrated throughout with a mix of icons and brief explanations that teach users about the evolution of food up to the present day. In addition the book includes a wealth of fun facts and trivia information related to food. Everything from sharing that we are the only species who consumes other animal's breast milk, and that oranges were originally green in color, and the expression honeymoon comes from the Roman tradition of leaving honey for newlyweds to boost their energy or that the can opener was invented 50 years after the can. Food History is an incredible resource and book that has been designed for all ages.
"For years at Papila we have we have been working on projects in which we have had to investigate about the origin of numerous foods," says designer Eva García, "When we realized the vast amount of information we had gathered, we thought it was necessary to create a new publication related to the history of food."
Food History is currently live and available to support on Kickstarter: https://www.kickstarter.com/projects/foodhistory/food-history
About Papila
Papila is a design studio that specializes in food consisting of Alberto Arza, Roberto Cortés and Eva García who have created the definitive publication on the relationship between humans and food titled 'Food History' after being moved by their curiosity concerning food.
For more information on Papila please visit http://www.papila.es
###