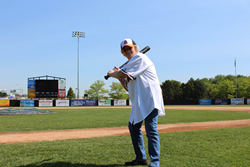 Velma serving as an honorary player for the Boomers, supports Friendship Village's commitment to helping older adults remain active and engaged, and to pursue their dreams," said Michael McCann
Evanston, IL (PRWEB) June 13, 2016
Making baseball history, Velma Robinson of Friendship Village has been appointed an honorary player for the Schaumburg Boomers baseball team. The octogenarian, who is a resident of Friendship Village, spent a day practicing with the team last week, showing off her impressive on-the-field prowess. No stranger to athleticism, Velma played softball in high school and college, and has been the unrivaled champion of Friendship Village's annual Silver Games, which pits senior against senior in friendly athletic competition. Most notably in Silver Games, Velma has won more than sixty medals, achieving six of the last eight gold medals for the home run derby. She has been duly dubbed "Velma-Won-Everything." Velma is 89 years old.
Tuesday, June 16 will be Friendship Village Night at Boomers Stadium as the Boomers take on the Traverse City Beach Bums. A souvenir Velma Robinson baseball card will be given to the first 1000 attendees to the game. Before the opening pitch, Velma will be introduced, and a brief video highlight of her Boomers career will be aired, featuring Velma running bases, hitting home runs, fielding balls and more.
Additionally, the Friendship Village Choir will perform the National Anthem and will also perform during the seventh inning stretch. Friendship Village resident Kenneth Piotrowski will serve as honorary coach of the day.
"Velma serving as an honorary player for the Boomers, supports Friendship Village's commitment to helping older adults remain active and engaged, and to pursue their dreams," said Michael McCann, director of lifestyles for Friendship Village. 'We're excited that we were able to share this opportunity with Velma, and also excited that we were able to introduce this amazing woman to the community."
Friendship Village is now in its fourth year of its relationship with the Boomers, which also includes hosting young players during the season. The idea came about as Boomer management was seeking housing which helps defray costs for the players who are young, and come from throughout the U.S. Friendship Village which promotes a healthy, active and engaging lifestyle, enthusiastically embraced the idea of hosting players. "It's a wonderful chance for Friendship Village residents to experience the excitement of the young players as they fulfill their lifelong dream of playing professional baseball," said Patricia Mash, vice president of planning and marketing for Friendship Senior Options. "Each year has been a resounding success so we're excited to repeat it again this year.
Friendship Village is a leading Chicago-area retirement community offering a complete continuum of care including independent living garden homes and apartment homes, as well as assisted living, memory support, skilled care, and short- and long-term rehabilitation services. For more than 38 years, Friendship Village has been providing Chicago area seniors with exceptional retirement living options. For additional information visit http://www.FriendshipVillage.org