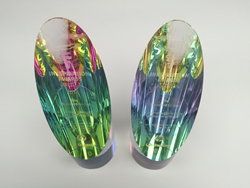 "We are honored to compete on a national level, and to win for the category of direct mail and marketing excellence is a remarkable reflection of what our employees have accomplished."
Lancaster and Reading, PA (PRWEB) June 22, 2016
In partnership with Dscoop, the largest digital solutions cooperative in the graphics industry, HP Inc. announced the winners of its inaugural HP Inkspiration Awards for the Americas for the most innovative work produced using HP digital printing technology. They also announced the winner of the Rod Key Marketing Excellence Award for the most creative marketing campaign.
The Standard Group received both an HP Inkspiration Award for Direct Mail as well as the distinguished Rod Key Award for Marketing Excellence for its Countdown Celebration Holiday Promotion.
Tom Veitch, Chief Digital Officer for The Standard Group, received the two key awards on behalf of the company and was also on the presentation panel of those who were selected to provide perspective on the winning project. "We are honored to compete on a national level, and to win for the category of direct mail and marketing excellence is a remarkable reflection of what our employees have accomplished," stated Tom Veitch.
"Rapidly changing market conditions are inspiring brands to find creative new ways to reach consumers, and they're frequently turning to HP customers to make their ideas reality," said Steve Sakumoto, vice president and general manager, Graphics Solutions Business, Americas, HP Inc. "The winning entries are representative of the exciting, high-quality work our customers are producing every day, and we're pleased to offer advanced digital printing technology to help our customers continually reinvent their possibilities."
About The Standard Group: 
The Standard Group is a premier print management and marketing logistics company. We simplify the art of communication for our customers by understanding their business and delivering the right message to the marketplace. We partner with our customers to streamline and automate processes, facilitate ordering, improve quality, manage inventory and reduce obsolescence. By leveraging innovative workflow technologies, we execute multi-channel communication strategies to reach audience, drive engagement, increase revenue, reduce cost and raise compliance. Our award winning solutions with digital and print communication, personalized 1:1 messaging, online ordering, and marketing automation serve a unique and varied client base ranging from small non-profit organizations to large Fortune 500 companies. For more information on The Standard Group, visit http://www.standardgroup.com.