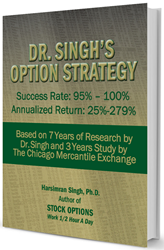 Dr. Singh's 4 Legged Strategy Provides a Brand New Trading Technique For The Stock Market..
NYC, New York (PRWEB) June 21, 2016
Research scholar, trader and author Dr. Singh, known on Wall Street as a "Stock Market Expert" for the past 35 years, will hold a webinar on his new research of a strategy, "Dr. Singh's 4 Legged Strategy" . This webinar will cover the following topics:

How to take advantage of a stock options trading strategy which can be a winner whether the underlying stock goes up, goes down or remains flat.
The perfect times to enter and exit from the options with this new strategy.
When asked how he researched this strategy, Dr. Singh replied, "I got some ideas from the billionaires when I wrote the book, 'How 12 Top Investors Made Billions In Stocks' and also when I wrote about 28 options trading strategies in my book, 'Stock Options - Work 1/2 Hour A Day'. I combined my 35 years of trading experience with what I learned from them to come up with this strategy.
Dr. Singh is a recipient of a Ph.D. from a California University for his research in options trading strategies.
He provides an unique advisory service whereby he promises to refund double the money anyone paid him if they lose money any month based on his monthly recommendations.
Dr. Singh is holding a webinar on Thursday, June 23, 2016 at 8:00 PM EST. He will discuss his options trading strategies during this webinar.
Click here to register for the webinar on June 23 or other date. There is limited capacity for the seats so Dr. Singh could possibly answer everyone's questions.