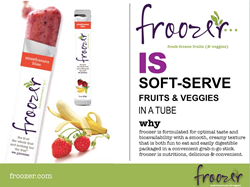 "We are delighted to introduce a slate of global leaders to serve as Froozer®'s Board of Advisors." -- Des Hague, Froozer® CEO and Chairman of the Board and Co-Founder of Hague Enterprises
Denver, CO (PRWEB) July 20, 2016
Des Hague, Froozer® CEO and Chairman of the Board and Co-Founder of Hague Enterprises, and Froozer® President, Rich Naha, announced today that a Froozer® Board of Advisors/Brand Ambassadors has been assembled to drive growth.
"We are delighted to introduce a slate of global leaders to serve as Froozer®'s Board of Advisors," said Hague. "We are launching what I believe will be a household recognized brand in a few short years," Hague continued. "One needs a village to succeed and having the right leadership, guidance and counsel is paramount. We believe that our Board of Advisors will provide that impetus and more," Hague concluded.
Froozer®'s Board of Advisors includes:
Pat Bruhn - former SVP of Centerplate, North America's largest event hospitality company. Pat will focus on the military and convenience store channels.
Joe Essa - President of Wolfgang Puck. Joe will focus on the foodservice and military channels and will actively participate in marketing launch plans for the brand.
Carol Wallace - President appointed Tourism Ambassador and significant leader on convention and leisure business. Carol will provide expertise in penetrating the Sports and Entertainment channels.
Ted Morris - Executive Director at US Speedskating. Ted will provide expertise in penetrating Sports channels.
David Patterson - former President of US Foods for Rocky Mountain Region. David will provide key insights into building a world class distribution network for the company.
"We are so excited to have this talent available to the company and know that their contributions in the years to come will be significant," said Hague.
"We're honored to have such a high quality group of industry experts join us in advancing Froozer to the next level," stated Naha.
About Froozer® - simple ingredients. real nutrition®
Froozer® products, the official healthy frozen fruit & veggie snack partner of US Speed Skating, represent the pure goodness of freshly harvested fruits & veggies picked at the peak of their ripeness, flash-frozen whole and blended for optimal taste, nutrition and digestion. Natural fruits and veggies in all their glory, nothing added or subtracted, not even a drop of water. Available in three delicious flavors - STRAWBANANA BLISS, TROPICAL SUNSET and BLUE ALOHA - in 6-pack boxes. Look for Froozer® in your local grocery store freezer at select fine retail locations in the Denver Area, including WholeFoods and Alfalfa's, and various select retailers in Arizona, California, Connecticut, Florida, Oregon, Washington State, Rhode Island and Alaska, or place your order for a 48-count box at http://www.Froozer.com or http://www.amazon.com to have your Froozer® delivered directly to your home or office.
For more information: http://froozer.com/
Contact: Renate Siekmann, VP Corporate Strategy and Communications, Froozer®
Phone:215-539-9481, Rsiekmann(at)froozer(dot)com
Connect with Froozer® on Facebook or Twitter