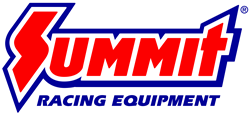 Tallamdge, OH (PRWEB) June 24, 2016
Summit Racing now offers Wheel and Tire Combos for classic musclecars and street rods, Jeep CJ and Wrangler, and 2015-16 Mustang. The wheels and tires are mounted and balanced--the customer can bolt them on, air the tires up, and go.
The mounting and balancing process starts with Summit Racing's exclusive RFV (Radial Force Variation) tire test. It simulates real world road conditions under load, and is the best way to detect small flaws that can cause wheel wobble. If a tire doesn't pass RFV testing, it gets sent back to the manufacturer.
Next, Summit Racing mounts the RFV-tested tires on the wheels and balance them with press-on weights. Pull-through valve stems are also included.
These are the Summit Racing Wheel and Tire Combos currently available:
Street Combos
These combos are ideal for 1960s and '70s American musclecars, street trucks, and street rods.

15 x 7 or 15 x 8 Cragar SS wheels, choice of 5 x 4.5, 5 x 4.75, 5 x 5 bolt patterns
BFGoodrich Radial T/A tires, P205/60-15
All Terrain Combo
This combo is ideal for Jeep Wranglers and other Jeep vehicles that are mostly street-driven but do see some off-road time.

15 x 8 Cragar Soft 8 black wheels, 4 inch backspace 5 x 4.5/114.3mm bolt pattern
BFGoodrich All-Terrain T/A KO2 tires, 31 x 10.50-15
2015-15 Mustang Combos
Add some grip and pizzazz to a late model Mustang with this combo.

TSW Nurburgring Series wheels, gunmetal gray, 20 x 8.5 front/20 x 10 rear
Nitto NT05 tires, 255/35-20 front/275/35-20 rear
TPMS sensors included
Summit Racing Equipment
http://www.SummitRacing.com
1-800-230-3030