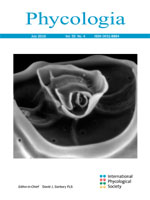 Cryptic species speak to the significance of preserving habitats because there may be certain species that are unique to particular habitats, even if they look the same as species found in other locations and habitats
Lawrence, Kansas (PRWEB) June 28, 2016
Phycologia – Cryptic species are groups of seemingly identical organisms that belong to different species. While these species appear the same morphologically, they can have wildly different behavioral patterns. It has become increasingly common to find cryptic species in the same geographic locations based on molecular data. One might assume that because cryptic species are so similar in morphology, they would compete for the same resources. However, this is not always the case.
An article, published in the current issue of Phycologia, documents molecular and habitat variation in the red algal species Bostrychia intricata. B. intricata is common on the shores of New Zealand. This species, like many other red algae, is known to contain several cryptic species.
Despite the difficulty in identifying cryptic species, the researchers used DNA sequencing technology to characterize three cryptic forms of B. intricata, suitable for species recognition, that not only had overlapping geographic distributions but that grew in close proximity to one another. This appeared to contradict a long-standing ecological principle of niche separation, i.e. that two species with similar requirements should not occupy the same habitat. The authors also found that each microsite detailed in the study was made up of one genetic entity, and that more than one of the cryptic entities was never found on the same rock.
The authors discovered how B. intricata with its co-occurring cryptic species distribute at a small scale and resolve the apparent issue of niche separation. Competing species normally coexist by finding their own separate niches, which may contain significant resources or environmental features that help the species survive. The authors studied tidal position and wave and sun exposure levels to identify behavioral niche patterns of B. intricata.
Dr. David Garbary, the Editor in Chief of Phycologia, explained the importance of cryptic species and the research done in this article, stating, "Cryptic species speak to the significance of preserving habitats because there may be certain species that are unique to particular habitats, even if they look the same as species found in other locations and habitats." He added that "this paper is an excellent example of the importance of combining ecological and molecular studies to understand biological diversity."
The authors are confident that their methods will have value for other research teams in the future. By using the authors' recommended small area studies with heavy sampling and increased variable factors, future studies will hopefully be able to expand on the findings of this study.
The full text of the article, "Cryptic species in sympatry: nonrandom small-scale distribution patterns in Bostrychia intricata (Ceramiales, Rhodophyta)," Phycologia, Vol. 55, No. 4, 2016, is available at: http://www.phycologia.org/doi/full/10.2216/15-108.1
###
About Phycologia
Phycologia is published bimonthly by the International Phycological Society and serves as a publishing medium for information about any aspect of phycology, basic or applied, including biochemistry, cell biology, developmental biology, ecology, evolution, genetics, molecular biology, physiology, and systematics. Learn more about the society at http://www.intphycsoc.org/.