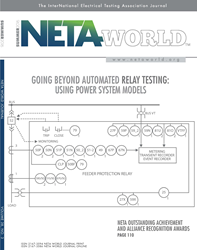 Portage, Michigan (PRWEB) June 29, 2016
Professionals in the electrical power system industry look to the NETA World Journal for the latest technical information, research, and instruction designed to help electrical power industry professionals with commissioning, maintenance, and best practices on how to stay safe on the job.
Featured topics in this issue include: Protection Testing Specifications, the IEC 61850 Standard, System Protection Reliability, and much more.
NETA World Journal's Summer 2016 issue was released May 30th to NETA members, Alliance Partners, and current subscribers. Non-subscribers can sample the summer 2016 issue by following the article links provided below:
Article highlights from the Summer 2016 NETA World Journal include:

Additional content found in the summer issue includes updates on the ANSI/NETA Standards, announcement of the NETA Outstanding Achievement and NETA Alliance Recognition Award honorees, and Tech Tips on Grounding in the Solar Industry.
NETA World Journal publishes four times a year, delivering the most relevant information created specifically for electrical power industry professionals. To subscribe to the Journal, visit http://www.netaworld.org or call 269- 488-6382 (NETA).
ABOUT NETA
NETA is an ANSI Accredited standards developing organization that creates and maintains standards on electrical testing for electrical power equipment and systems. NETA is an association of leading electrical testing companies comprised of visionaries committed to advancing the industry standards for power system installation and maintenance to ensure the highest level of reliability and safety. To find out more about NETA, visit http://www.netaworld.org.