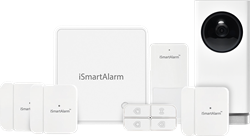 "Without contracts or monthly fees, the iSmartAlarm Smart Home Security System is a perfect solution for families to stay safe and connected."
Sunnyvale, CA (PRWEB) June 28, 2016
iSmart Alarm, Inc, the leader in DIY Smart Home Security products, today announced their products will be carried in all Best Buy stores in the United States. Best Buy offers the Best Buy-exclusive iSmartAlarm Home Security System Plus Package and the iCamera KEEP HD Home Security Camera in the Connected Home section. The company's products will be carried in over 1,000 stores across North America. These products and additional iSmartAlarm products and accessories are currently available online at BestBuy.com as well.
The Best Buy-exclusive iSmartAlarm Plus Package offers users advanced smart home security, control, and automation using their iPhone and Android devices at a fraction of the cost of traditional security companies. The iSmartAlarm Home Security System is a self-monitored and self-controlled home security system with no monthly fees or contracts. iPhone and Android apps allow users to arm, monitor and disarm their security system at any time, from anywhere, in real-time. Users can monitor and observe when a door or window is opened or if movement is detected in a specific area, and receive immediate phone, text, push, and email notifications in case of emergency. Customized settings and expandability allow every system to be personalized to fit every sized home.
The iCamera KEEP is designed to work with the iSmartAlarm Smart Home Security System or as a stand-alone Wi-Fi security camera. With HD resolution, motorized 350°x40° pan & tilt controls, motion and sound detection, and on-demand live video control and free cloud video storage, the iCamera KEEP provides comprehensive home visibility.
"We are very excited to expand our availability with Best Buy in North America," said Raymond Meng, CEO and Co-Founder, iSmart Alarm, Inc. "Without contracts or monthly fees, the iSmartAlarm Smart Home Security System is a perfect solution for families to stay safe and connected."
The iSmartAlarm home security ecosystem provides users a new level of control, security, and connectivity, allowing anyone to monitor, manage, and secure their home, property and family using their iPhone or Android devices. Additional packages, devices, and cameras will be added to the system and to Best Buy shelves in the coming months. Check Best Buy's website for product availability at your local store.
iSmartAlarm products have won national and international awards including the CEA Mark of Excellence, Red Dot Product Design Award, and PC Mag's Editor's Choice Award. The iSmartAlarm Smart Home Security System has been named CNET's best DIY home security system 3 years in a row, and was featured in Coldwell Banker's "25 Smart Home Technologies that Matter Most to Home Buyers."
iSmartAlarm Media
Facebook
Twitter
YouTube
About iSmart Alarm, Inc.
iSmart Alarm, Inc. was founded in Silicon Valley in 2012 on the principles of safety, beauty, and intelligence. They are pioneers and leaders in the smart home security industry and the iSmartAlarm family has been named CNET's Best DIY Home Security System for the last 3 years in a row.
iSmartAlarm products have won national and international awards including the CEA Mark of Excellence, Red Dot Product Design Award, and PC Mag's Editor's Choice Awards. The iSmartAlarm Home Security System was featured in Coldwell Banker's "25 Smart Home Technologies that Matter Most to Home Buyers."