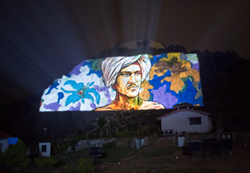 We eventually decided to deploy the Roadster S+22K-J projectors because of their unmatched brightness and robustness for such an outdoor install.
JHARKHAND, India (PRWEB) June 28, 2016
Christie® technology helped transform the hillside of Kanke Dam in Jharkhand's Ranchi district into a canvas for a fascinating light show that pays tribute to one of India's most honored folk heroes, Birsa Munda, who spearheaded the "Ulgulaan" movement that rose against British rule in the 19th century.
The 40-minute projection mapping show, titled "Dharti Aaba," is commissioned by the Indian Tourism Development Corporation (ITDC) and presented by Christie's India partner Tricolor India Schauspiel, which was responsible for several well-known projection mapping projects in India such as Dhauli Shanti Stupa in Bhubaneswar, and Guru Tegh Bahadur Memorial Park in Delhi. The show recounts the exploits of Birsa Munda and his valiant fight against the British colonizers to attain freedom – making him an important figure in the history of the Indian independence movement. His achievements were even more remarkable considering he passed away at age 25.
Rich and vibrant visuals depicting significant stages of Birsa Munda's life, projected onto the rocky face of a hill overlooking the scenic dam near Rock Garden park, are made possible with four Christie Roadster S+22K-J 3DLP® projectors. Installed in a specially built control cabin situated about 100 meters away from the projected surface, the projectors are in portrait mode with the visuals measuring 60 meters long and 25 meters high – almost the size of a football field – which can be fully enjoyed by hundreds of spectators at each session. Inaugurated by the chief minister of Jharkhand, the show is the first permanent projection mapping installation using Christie projectors in the state and plays nightly at 7:30 p.m.
Himanshu Sabharwal, Creative Director, Tricolor India Schauspiel, commented: "It took us six months to implement the project and we have always wanted to use Christie projectors to deliver the visuals for this show. We eventually decided to deploy the Roadster S+22K-J projectors because of their unmatched brightness and robustness for such an outdoor install. This is perhaps our first install in India on a hillside, and we have learned to play with dark surfaces by creating the content in a particular way and also to transform a huge structure while being economical. Overall I'm pleased with the performance of the projectors and our clients are also happy with the transformation of the hillside."
According to Sabharwal, the biggest challenge encountered was to map the mountain without losing light with a limited number of projectors. This was resolved by arranging and edge-blending the projectors to cover the entire mountain. Another challenge was to be in the center point while creating a housing solution for the projectors. The Tricolor India team eventually overcame this issue by constructing a bespoke cabin at an optimum angle to hit the mountain in the right places.
"We are delighted that our partner Tricolor India Schauspiel has chosen Christie visual solutions to deliver this inspiring and spectacular light show to honor Birsa Munda, who's one of the most respected folk heroes in India," said Lin Yu, Vice President, Christie Asia Pacific. "I applaud Himanshu and his team for their excellent conceptualization, planning and execution of the show, as well as resourcefulness in creating innovative ways to overcome the challenges faced in the deployment and setting up of the projectors, so as to provide the best visual experience for the audience."
The content of the show was visualized by Sabharwal with film celebrities Om Puri and Kabir Bedi providing the voiceovers in Hindi and English respectively. The background score was composed by Indian Ocean, the band famous for producing alternative earthy music.
Ideal for large venues and live events, the Roadster S+22K-J has a brightness of 22,000 center lumens, offers superior performance, high brightness and crisp, clear images and more lumens per watt in the smallest chassis in its class. This series of Christie projectors also couples the benefits of Xenon illumination – for the most natural color accuracy and stability – with the next level of technology, performance and flexibility.
About Christie®
Christie Digital Systems USA, Inc. is a global visual technologies company and is a wholly-owned subsidiary of Ushio, Inc., Japan, (JP:6925). Consistently setting the standards by being the first to market some of the world's most advanced projectors and complete system displays, Christie is recognized as one of the most innovative visual technology companies in the world. From retail displays to Hollywood, mission critical command centers to classrooms and training simulators, Christie display solutions and projectors capture the attention of audiences around the world with dynamic and stunning images. Visit http://www.christiedigital.com.
Follow Christie:
twitter.com/christiedigital
twitter.com/christievive
http://www.facebook.com/christiedigital/
http://www.linkedin.com/company/christie-digital-systems
http://www.youtube.com/christiedigital
http://www.instagram.com/christiedigital/
vimeo.com/christiedigital
Christie® is a trademark of Christie Digital Systems USA, Inc., registered in the United States of America and certain other countries.
DLP® is a registered trademark of Texas Instruments.