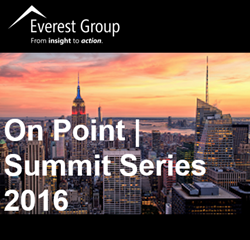 We launched the 'On Point | Summit Series 2016' because our clients and others in the industry wanted a safe forum where they could exchange ideas with peers and engage with us in person
Dallas, TX (PRWEB) June 28, 2016
The global outsourcing industry has matured into a slower growth pattern, but strategic outsourcing solutions can still add dramatically more and different value to organizations. Discovering the keys to unlocking this outsourcing value will be the focus of the day as enterprise sourcing executives and senior leaders gather in New York City on July 21 at the On Point | Summit to network and share insights on optimizing their global sourcing strategies.
The half-day summit—hosted by Everest Group and themed "Succeeding in Outsourcing 4.0: Imperatives for Strategic Sourcing Executives"—is a forum designed for enterprise attendees to learn from each other and featured industry experts as well as leading practitioners.
Special guest speaker Rod Bourgeois, head of research and consulting at DeepDive Equity Research, will present, "What are the Winning Models? An Investor's View."
"We launched the 'On Point | Summit Series 2016' because our clients and others in the industry wanted a safe forum where they could exchange ideas with peers and engage with us in person," said Eric Simonson, managing partner – research at Everest Group. "Based on feedback from our first event, our format of intimate interaction with peers, an opportunity to hear provocative thought leaders, and a chance to have detailed discussions with us on key issues is exactly what these business leaders are looking for. The take-aways from the event offer an excellent ROI on the time invested."
The July 21 agenda will feature a panel of leading outsourcing practitioners who will engage participants in a lively discussion about incorporating next-generation capabilities into outsourcing solutions. Other highlights will include "Bring Your Own Topic" (BYOT) roundtable discussions and insights on contracting for business outcomes, offered by Everest Group.
Everest Group hosts for the event include Simonson; Jimit Arora, partner and leader of IT services – research; and Sarthak Brahma, vice president, pricing assurance – research.
This is the second installment of Everest Group's by-invitation-only "On Point | Summit Series 2016." The first event, held in May, focused on emerging technology and talent trends in the banking, financial services and insurance industry. Guests enjoyed active dialogue with peers, insights from Everest Group research analysts, and a presentation by guest speaker, Chitra Dorai, IBM fellow and CTO of cognitive services, who shared her thoughts on "Cognitive Computing for Process Re-imagination in Financial Services."
The third event in the "On Point | Summit Series 2016" will be held in October. Everest Group recently announced that, due to popular demand, the "On Point | Summit Series" will be extended with a full slate of events in 2017.
Learn more and request to attend the July 21 event in the "On Point | Summit Series 2016" here. (Enterprise companies only; no service providers.)
About Everest Group
Everest Group is a consulting and research firm focused on strategic IT, business services, and sourcing. We are trusted advisors to senior executives of leading enterprises, providers, and investors. Our firm helps clients improve operational and financial performance through a hands-on process that supports them in making well-informed decisions that deliver high-impact results and achieve sustained value. Our insight and guidance empower clients to improve organizational efficiency, effectiveness, agility and responsiveness. What sets Everest Group apart is the integration of deep sourcing knowledge, problem-solving skills and original research. Details and in-depth content are available at http://www.everestgrp.com and research.everestgrp.com.