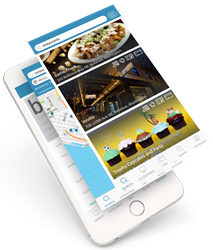 "There is an estimated unutilized capacity of $1.4T in the SMB market in the US. This app further positions BizX to improve the efficiency of our members' businesses, enabling their success in an increasingly competitive marketplace." Bob Bagga, BizX CEO
(PRWEB) June 28, 2016
Today BizX launches a new mobile app (now available for iOS and Android). The app furthers the Company's ability to deliver on its member-promise to upgrade their business by delivering new sales, better buying power, and improved cash flow. The guiding principles in the development of the app were that BXD (BizX Dollar) payments should be seamless, and members should be ultra-easy to find – all with an on-demand urgency. The app uses location technology to showcase the thousands of members nearby and is fitted with intuitive payment features that allow BXD to be transferred digitally, to both members and non-members, with a few swipes on the screen. This simplified process means that formerly paper based transactions are now settled between buyer and seller in a matter of seconds, and transmitted entirely via mobile.
The Company views this app as a landmark enhancement to the network, which facilitated over 80M BXD in 2015 transaction volume and saved members over $40M in cash. "There is an estimated unutilized capacity of $1.4T in the SMB market in the US. This app further positions BizX to improve the efficiency of our members' businesses, enabling their success in an increasingly competitive marketplace," says BizX CEO and co-founder, Bob Bagga. In the app, the depth and breadth of the BizX network are tangible and member engagement is simplified, resulting in reduced transaction friction and increased marketplace liquidity. "Financial Technology is in a period of rapid development and growth, and the launch of this app reaffirms BizX as a leader in alternative payments, setting the stage for development in both B-to-B and B-to-C markets," says Rudy Gadre, prominent tech angel and early investor in BizX.
The primary features of the BizX app include:

3 payment options – proximity based payment, payment via email, and payment via card number (BizX cards continue as a method of payment as well)
Location based quick-search for members in a list or a map, and in-depth "store-front" data and contact information – all searchable by key words and complete with handy features to narrow the search
Digital BizX card complete with recent transaction history, putting control of the BizX account comfortably into the hands of the member
About BizX: BizX is an alternative payment solution and private economy comprised of a network of businesses that buy and sell using a digital currency, the BizX dollar (1BXD = 1USD). In the BizX economy, members leverage their extra capacity and accrue BXD, which they spend on goods and services offered by other members. BizX members reap the economic advantage of a barter transaction, but with the liquidity of a trusted currency, enabling them to attract new customers, preserve cash, increase profits, and reduce unutilized capacity. In this way, BizX empowers communities and enriches trade. Since inception, BizX facilitated 500M BXD in transaction volume, resulting in membership cash savings of $250M USD. Today BizX has over 4000 loyal members who include business such as INC magazine, Oakland Raiders, Clear Channel, Habitat for Humanity, and thousands of small and medium size businesses. Founded in 2002, BizX operates out of offices in Seattle, San Francisco, and Dubai.