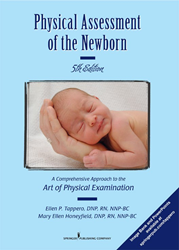 Since 1993, Drs. Tappero and Honeyfield's book has served as an invaluable resource for nurses, as well as for any health care worker involved in neonatal care.
New York, NY (PRWEB) June 30, 2016
Springer Publishing, a leading publisher in nursing, social science and beyond, is now publishing the acclaimed title Physical Assessment of the Newborn. The title, from authors Ellen P. Tappero, DNP RN NNP-BC and Mary Ellen Honeyfield, DNP RN NNP-BC, is widely recognized as the premier resource for gestational, neurologic, and behavioral assessment of the newborn. The fifth edition is available now from Springer Publishing, with the sixth edition currently slated for 2018.
Said Margaret Zuccarini, Publisher, Nursing at Springer Publishing Company: "We are thrilled to make Springer Publishing the new home of Physical Assessment of the Newborn. Since 1993, Drs. Tappero and Honeyfield's book has served as an invaluable resource for nurses, as well as for any health care worker involved in neonatal care. With the power of our nursing brand behind it and new digital resources in development for faculty, we intend to bring their outstanding work to a broader audience than ever before."
Physical Assessment of the Newborn (PAN for short), now in its 5th edition, is a valuable addition to Springer Publishing Company's growing list in the increasingly prestigious field of advanced practice neonatal nursing, joining currently published titles including Comprehensive Neonatal Nursing Care, Neonatal Advanced Practice Nursing, and the Neonatal Nursing Care Handbook. This acquisition will provide Springer Publishing the opportunity to publish a key textbook in the neonatal nursing market, as Physical Assessment is a core, required course in all 37 of the MSN/Neonatal Nursing courses currently existing around the country.
Springer Publishing's plans for the title include creating a faculty resource package that will include PowerPoint slides and an image bank for use by faculty to customize online and in-class learning modules. These initiatives currently are being developed.
About Springer Publishing Company
A pioneer in health care and social science publishing for 65 years, Springer Publishing Company is known as an innovative publisher in the fields of nursing, social work, psychology, counseling, public health, health administration, gerontology, and, under the Demos Medical imprint, clinical medicine including neurology, physical medicine and rehabilitation, oncology, pathology, and cardiology. The company has won numerous awards, including the American Library Association (ALA) Choice Awards, the Association of American Publishers (AAP) PROSE Awards, and the American Journal of Nursing (AJN) Book of the Year Awards, and publishes 150 quality titles annually, all available as eBooks, in addition to 21 journals, mobile apps, and digital products. Springer Publishing Company, a privately held company of The Mannheim Trust, is passionate about providing the best professional books, textbooks, guides, and reference works to professionals, instructors, and students. For more information, visit http://www.springerpub.com.