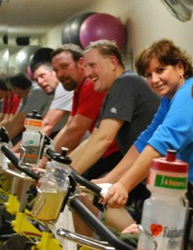 "We're equipping our clients to do things they thought were no longer possible," says Roberston.
Bellingham, WA (PRWEB) July 06, 2016
With the Tour de France attracting an estimated 3.5 million television viewers, cycling is once again in the media spotlight attracting athletes and armchair-athletes alike. USA Cycling Coach and Certified Functional Aging Specialist, Robin Robertson says many people with knee, hip, and ankle pain don't realize that cycling is a great way for them to get in shape and have fun too.
"One out of every two adults will experience lower joint pain by the time they are 85. It might be from sport injuries, surgery, wear and tear, arthritis, or like me, just dealing with bad knees from birth," says Robertson. "The good news is these challenges don't have to mean living life in the slow lane."
An avid competitive athlete in high school and college, Robertson was just 24 when her doctor told her she could no longer do high-impact sports. She had already endured two knee surgeries and had now been given the crushing news that she had a knee of an 85 year old and if she continued with impact sports, she wouldn't be able to walk by the time she was 30 years old.
Her doctor suggested she try cycling. The suggestion led her to discover new ways to care for her knees and still enjoy an adventurous lifestyle. Today, at age 54, she's made a career out of helping others safely discover indoor and outdoor cycling for fitness and fun.
"We're equipping our clients to do things they thought were no longer possible," says Robertson.
Two of her clients were in their 70's when they took their children and grandchildren on a five-day cycling tour along the Danube River. Robin and her husband have cycled over 50,000 miles together including a ten-month journey through 15 countries around the world.
"I want to give people looking for knee pain relief hope they can stay healthy and active," says Robertson.
"Unfortunately many people avoid cycling because they haven't been properly trained to get the right fit in a way that protects and strengthens their lower joints."
In her new book "Healthy Knees Cycling", she emphasizes how the right speed and difficulty of pedaling, fit, posture, and stance can offer many health benefits for people looking for knee pain relief, as well as hip and ankle pain relief.
"Healthy Knees Cycling" offers the following 6 bike fit tips for knee pain sufferers:

Top of knee pain may mean your seat is too low.
Back of knee pain and/or lower back pain may mean your seat is too high.
Front of knee pain may mean your seat is too close to the handlebars.
The best seat height gives your knee a slight bend (25 degrees) when your foot is on the pedal and leg is fully extended. (A 25 degree bend is like putting your fist under your knee if you had your leg extended on the floor.)
Place the ball of your foot on the pedal to get the most power out of each pedal stroke.
Make sure your sit-bones are on the widest part saddle where there is the most padding and comfort.
Robin Robertson is the creator of Healthy Knees Cycling Coach and author of "Healthy Knees Cycling". A USA Cycling Coach, Functional Aging Specialist, and ACE Personal Trainer, Robin Robertson well understands the challenges of staying fit while aging. With a total of 8 knee surgeries and arthritis in both knees, Robin has found the secret to living a healthy active lifestyle and now coaches clients and trainers around the world to do the same. For more information visit HealthyKneesBook.com