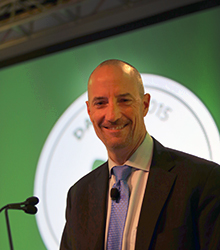 We wanted to provide new and emerging SBRE fund managers and entrepreneurs an opportunity to develop a presentation, get up on stage, and hone their pitch.
Portland, Oregon (PRWEB) July 06, 2016
SBRE industry founder Fairway America today selected five SBRE entrepreneurs to present to a panel of seasoned real estate "sharks" and have an opportunity to receive a commitment from one of Fairway's proprietary funds for a $100,000 investment. The winner will be required to complete a due diligence process in order to receive the investment.
"We wanted to provide new and emerging SBRE fund managers and entrepreneurs an opportunity to develop a presentation, get up on stage, and hone their pitch," said Fairway's CEO Matthew Burk. "Not only will it be great fun, having a legitimate opportunity to receive an investment on the line makes it much more interesting and real. We have some very deserving presenters lined up and I can't wait to see them pitch."
The presenters who will be competing at the SBRE Shark Bowl are Brian Lynott from Dweller, Randy King at The Legacy Group, Michael Zajas of Brydant Inc., Aaron Gillingham with Aries Capital Northwest, and David Sobelman from Generation Income Properties.
"This group of presenters represents a great cross-section of the SBRE industry and is an excellent example of the amazing diversity of strategies being executed in the space," said Burk.
The CapitalFlow Conference will be held annually in Fairway's home town of Portland OR and is expected to attract leading SBRE entrepreneurs and fund managers from around the United States. The main theme for these entrepreneurs is to enhance their capacity to successfully raise capital for their SBRE deal strategy, which the Shark Bowl is expected to help promote. Burk says that Fairway has borrowed bits and pieces of different formats and structures he seen over the years and amalgamated them into a unique construct.
"The CapitalFlow Conference format has been designed by SBRE fund managers for SBRE fund managers (and syndicators) to meet the core challenges and needs of this underserved group," said Burk.
In order to continue to help facilitate the growing SBRE community of entrepreneurs and investors, Fairway has created a unique and powerful formula that is unavailable anywhere else. In addition to the Shark Bowl, a mini-version of Fairway's highly sought-after SBRE Investment Summit, the conference also features deep-dive content on fund management issues, capital raising strategies and tactics, and peer-to-peer experience share.
"We work with SBRE fund managers, syndicators and high net worth investors all over the country," said Burk, a longtime fund manager and investor who will be one of the panelists of Sharks. "Because we have such a deep understanding of the practical challenges we all face, we've engineered the CapitalFlow Conference to provide unequaled take home value to the SBRE entrepreneur."
Fairway will also be announcing the winner of the 1st Annual SBRE Awards in 5 categories as follows: Fund Manager of the Year, Emerging Fund Manager of the Year, SBRE Entrepreneur of the Year, Syndicator of the Year and the first ever inductees into the SBRE Hall of Fame. Finalists have been named in all categories and most or all of them will be on hand for the awards ceremony.
The event will be held at the Portland Hilton Hotel and Towers in downtown Portland Oregon. Winners of the SBRE Awards will be announced during a lunch ceremony on Friday July 29th and will be immediately followed by the SBRE Shark Bowl. The event will conclude at the Willamette Riverfront Park for the 25th Annual Oregon Brewfest, the oldest and largest gathering of microbreweries in the United States. Registration for the event is still open to SBRE entrepreneurs, fund managers, private lenders, and real estate syndicators, as well as high net worth investors who are interested in learning more about the growing SBRE alternative investment space.
"What really makes it all so powerful are the reasons why we come together in the first place – to engage each other on the challenges, strategies, and opportunities of running an SBRE business," said Burk. "We share ideas, best practices, successes and failures, what works and what doesn't without fear of judgment or reprisal from other managers – just mutual trust and respect for what we all have to go through to run a successful SBRE enterprise and create value for investors."
About Fairway America
Fairway America, LLC is a longtime real estate asset based fund manager and real estate finance advisory firm providing strategic business planning services nationwide to SBRE entrepreneurs around the structure, architecture, and administration of proprietary 506 Regulation D pooled investment funds. Fairway's related entities manage two proprietary funds, Fairway America Fund VI, LLC, and Fairway America Fund VII LP, each focused on the SBRE space with different asset allocations and investment features. Both funds consider investments nationwide.
About SBREfunds.com
SBREfunds.com is an online education, information and match-making site that exclusively lists small balance real estate investment opportunities. Created by Fairway America, SBREfunds.com provides entrepreneurs and investors with education and connectivity to better capitalize and grow an SBRE enterprise. From connection with investors to strategic capital raising plans to live events, SBREfunds.com is the definitive resource for SBRE entrepreneurs and accredited investors to understand how to successfully work with one another for mutual benefit and growth.
Neither Fairway America nor SBREfunds.com is a registered broker-dealer or investment advisor. None of the Fairway companies perform any activities of a broker or investment adviser, including but not limited to, soliciting investors, providing investment advice, negotiating securities transactions or the terms, conditions or provisions of any offering, or recommending the purchase of securities. This press release does not constitute an offer or solicitation to sell securities in any of the companies mentioned, any funds presenting at SBRE Summit events, or any related or associated companies. Investors must not rely on information provided in this press release for investment decisions.