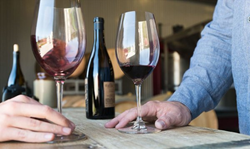 The building design has a modern agrarian feel that fits with the overall agricultural flare of the area.
Paso Robles, CA (PRWEB) July 08, 2016
Pacifica Wine Division, one branch of the full-service commercial, industrial, and investment real estate company Pacifica Commercial Realty recently found a new commercial location for Cordant and Nelle wine brands at 3310 Ramada Drive, Paso Robles, N.E. corner of Marquita and Ramada Drive, near the Tin City development.
Cordant and Nelle Wines, which have a case production of 1200 between the two brands, will move into the 10,000 square-foot custom winemaking facility this year. Starting with hospitality in the fall followed by production at the start of 2017. The building design has a modern agrarian feel that fits with the overall agricultural flare of the area. The design is also incredibly practical and efficient as a production facility.
Cordant and Nelle Winemaker Tyler Russell said to date he has been sharing a production space and has been waiting for a building around Tin City to turn up. "I have been making wine like this for 10 years and just doing it where I could. I have survived this long on word of mouth and recommendations. It is nice now, after 10 years, to have a home. The area around Tin City is thriving, and going through a process of development. I am really happy to be a part of the Tin City community, the urban setting is definitely the future."
RSPaul Company, who owns the building, has been receptive to any modifications needed for a wine production, he said. "They ran everything by me and I gave feedback on functionality. The new building allows my business to grow. Having a great location, close to the highway, having direct freeway visibility and being more available to the general public makes a huge difference. The building also has space for wine events, wine club and wholesale. Currently tastings are by referral or by appointment, in the future there will be walk in tastings and reserve tastings."
President of RSPaul Company and building owner Ric Paul said the state-of-the-art full service winery building was customized to include floor drains, air handling, equipment and roll up doors. "The building is very efficient, over insulated to accommodate temperature swings, state-of-the-art electronics and LED systems," he said. "This four (4) building development will potentially have an on-site wastewater treatment facility if there continues to be high interest from winemakers. Giving users the ability to process waste-water onsite."
"There are four buildings in the complex and all businesses are related to the wine industry, including Tapp Label, Scott and ETS Laboratories. The location is ideal for any start up or established business. Another 20,000 square-foot building in the complex is available, same design, full service winery from production through to retail sales."
For further information on commercial wine real estate opportunities contact Paul Shannon at Pacifica Winery Division (805) 237-4040, email paul(at)pacificacre(dot)com or visit http://www.pasowinerealestate.com.
Pacifica Winery Division
504 First St # A
Paso Robles, CA 93446
(805) 237-4040
http://www.pasowinerealestate.com
Press release by Access Publishing, 806 9th Street, #2D, Paso Robles, CA 93446 (805) 226-9890.