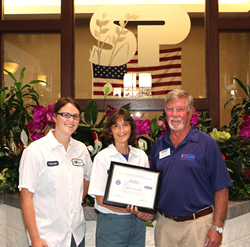 I am grateful that Standard Process encourages my military career, as well as supporting my civilian one.
(PRWEB) July 07, 2016
Wisconsin Employer Support of the Guard and Reserve (ESGR®), an office of the Department of Defense, announced that Standard Process Inc. and Solid Dose Supervisor Peggy Race were honored in recognition of proactive efforts to support Wisconsin Army National Guard Spc. Stephanie Wardin, who serves in the 135th Medical Company based in Waukesha, Wisconsin. Race accepted the Patriot Award, while Dean Ploch, Standard Process plant manager, was honored for signing a Statement of Support for the National Guard and Reserve on behalf of Standard Process.
The presentation took place June 23 during a brief ceremony held at the corporate headquarters of Standard Process, located in Palmyra, Wisconsin.
"Our individual freedoms rest on the men and women who defend our country," said Race when receiving her award. "I am honored to work for Standard Process and have a team of employees who together support Stephanie Wardin's sacrifices in defending those freedoms."
Wardin, a resident of Mukwonago, Wisconsin, has worked at Standard Process for eight years. She nominated her supervisor Race, as well as Standard Process, for the ESGR honors because of the support she has received following her decision to enlist in 2013. During her service time, whenever Wardin needed to leave for duty, it was not an issue for Race or Standard Process.
"Peggy has never complained and wishes me luck when I leave for duty, even when it is for short notice trainings and additional duties," Wardin said. "I am grateful that Standard Process encourages my military career, as well as supporting my civilian one."
According to Wisconsin ESGR Committee Chairman Dave Gapinski, who presented the awards to Race and Standard Process, "Supportive supervisors are critical to maintaining the strength and readiness of the nation's guard and reserve units."
ESGR is a Department of Defense Office established in 1972 to develop and promote civilian employer support for guard and reserve service. It advocates relevant initiatives, recognizes outstanding support, increases awareness of applicable laws, and resolves conflict between service members and employers. Paramount to ESGR's mission is encouraging the employment of guardsmen and reservists who bring integrity, global perspective and proven leadership to the civilian workforce.
###
About Standard Process Inc.
Standard Process is the visionary leader in whole food nutrient solutions. Based in Palmyra, Wisconsin, Standard Process offers more than 300 high-quality supplements made with whole food and other ingredients through three product lines:

Standard Process
Standard Process Veterinary Formulas
MediHerb herbal supplements.
The products are available exclusively through health care professionals, including chiropractors, acupuncturists, medical doctors and veterinarians.
Dedicated to the whole food philosophy of its founder Dr. Royal Lee, Standard Process' goal is to ensure its nutritional supplements deliver complex nutrients as nature intended. To accomplish this, Standard Process grows the majority of its raw plant ingredients on company-owned, organically certified farmland. Using state-of-the-art manufacturing processes to retain vital nutrients within each ingredient, Standard Process manufactures its supplements in its certified organic manufacturing facility. Standard Process employs high-quality control standards and follows the Food and Drug Administration's current good manufacturing practices (cGMPs).
Standard Process also owns two subsidiaries, Cultivate by Standard Process and Lee Engineering. Both offer unique wellness solutions. Cultivate delivers scalable wellness programs to businesses, using on-site chiropractic as a central component of the program, to impact individual employee and overall company health. Lee Engineering's Royal Lee Organics offers Intelligent Healthful Living™ solutions for the home for home flour milling.
Standard Process employs over 370 people and has been in business since 1929. The company is recognized as a distinguished leader and innovator in workplace wellness and an exemplary environmental steward. It is a recipient of the Platinum Well Workplace Award from the Wellness Councils of America, and a Tier I participant in the Wisconsin Department of Natural Resources' Green Tier program, which recognizes companies with strong environmental compliance records. For additional information about Standard Process, visit standardprocess.com.