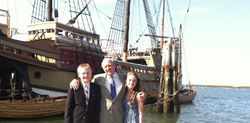 My mission is to work for the betterment of life in Plymouth, and provide true community service – not just lip service.
Plymouth, MA (PRWEB) July 07, 2016
Plymouth town meeting member and Democrat Stephen Michael Palmer announced his candidacy for State Representative in the First Plymouth District.
As an elected town member in Plymouth, Stephen Michael Palmer knows what it means to serve the community each and every day. His campaign platform seeks to stop the mis-allocation of community resources and instead focus on funding common sense items that the community needs.
"As a town meeting member and a proven conservative, I did not vote for the new Plymouth South high school, the new Plymouth town hall, or for the $48 million new sewer line – but rather, I supported pay raises for Plymouth's police and fire departments, full-time pre-school, the restoration of the Sines House using CPA funds, and I supported funding environmental projects at the Herring Pond Water Shed," said Stephen Michael Palmer.
"I want to bring common sense to Beacon Hill, at a time when it is truly needed," added Palmer. "This year, the Massachusetts State budget is over $39 billion dollars. Plymouth was allocated $100,000 to promote the town's upcoming 400th anniversary (set for 2020), yet lobbyists procured more than $300,000 for guinea pig research! This sort of waste has to stop, and my mission is to work for the betterment of life in Plymouth, and provide true community service – not just lip service."
Stephen's passion for public service is well understood by the people of Plymouth. He's the public servant that has painted over graffiti on town property; repaired little league field stands; rehabbed the Babe Ruth baseball field in the ponds of Plymouth; planted hundreds of flowers around town school entrances; raked leaves for the elderly; cut the grass and mended wooden fences at the Eel River Preserve on Long Pond Road. Through his candidacy for State Representative, Stephen Michael Palmer seeks to mend the fences between government and the people that government represents.
Another goal of Palmer's is to work with colleagues on Beacon Hill to end mobile phone handset use while driving in the State of Massachusetts. "The problem of distracted driving is growing worse by the day, and it's time for Massachusetts to show leadership and pass legislation that puts an end to this dangerous practice."
"I hope that people will examine my conservative record, and my commitment to community service for the people of Plymouth, and vote for me on Thursday, September 8th.
Voters can contact Stephen Michael Palmer directly at (508) 274-4237. Members of the media seeking comment are encouraged to contact Todd Keefe at For Immediate Release Public Relations. Additional information on Stephen's campaign is available at http://www.stephenmichaelpalmer.com.
Todd Keefe
For Immediate Release PR
617-262-1968
Mobile: 857-234-0467
Todd(at)firpr.com