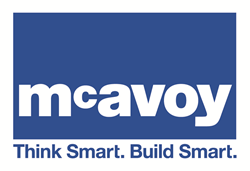 All in all, Viewpoint For Projects with BIM Manager, offers a single source of information, and a 'one stop shop' for collaborating the entire design information flow, in line with the BIM processes mandated for our BIM Level 2 certification
Newcastle Upon Tyne, UK (PRWEB) July 11, 2016
Viewpoint Construction Software®, a leading provider of innovative software solutions to the construction industry, is pleased to announce that The McAvoy Group, aided through its use of Viewpoint For Projects and BIM Manager, has become the first offsite modular construction company in the UK to achieve BRE BIM Level 2 certification (PAS 1192-2:2013). This certification means McAvoy is able to meet the UK Government's new BIM Level 2 requirements for centrally procured construction projects. McAvoy has been an early adopter of BIM and has a long record of using 3D modelling for its private and public sector projects.
When The McAvoy Group began its BIM journey back in 2014, it endeavoured to source the best "out of the box" solution to provide a suitable Common Data Environment (CDE) to share and co-ordinate project information among both the design team and project team as a whole. Additionally, it wanted a solution which provided a secure platform to fully communicate BIM execution plans to its project teams and meet the Government's BIM Level 2 specifications. McAvoy selected Viewpoint For Projects with BIM Manager to deliver these capabilities and more.
"Viewpoint For Projects offers a number of key benefits, including the ability to host the entire 'Information data set' required to provide the full Project Information Model (PIM). Various design disciplines store their 3D models, drawings, specifications, and data sheets separately within the CDE. From there they can combine (federate) that information and, when required, complete the full PIM throughout the design and delivery stage of a project," stated David Clark, Design Manager at The McAvoy Group. "Another benefit is the powerful workflow engine combined with the status control of documents - approval gates ensure documents are only visible to the right people, at the right time. Viewpoint For Projects not only provides the ability to host COBie, it also allows updates and amendments to be made to the COBie data directly from within the CDE itself. The product also keeps a complete audit trail, field by field, of who has done what and when in COBie, ensuring that the responsibility for all data at each data exchange is recorded."
David Clark concluded, "All in all, Viewpoint For Projects with BIM Manager, offers a single source of information, and a 'one stop shop' for collaborating the entire design information flow, in line with the BIM processes mandated for our BIM Level 2 certification."
About The McAvoy Group
With two state-of-the-art manufacturing facilities, McAvoy has the capacity to deliver large fast-track projects throughout the UK and Ireland. It has delivered more than 3 million m2 of modular accommodation for the education, health, commercial, infrastructure and hospitality sectors using its 'Think Smart, Build Smart.' mindset.
During its 44-year history McAvoy has completed modular projects in less than eight weeks, built a school from scratch in just 22 weeks, installed classrooms on the top of a three storey Victorian building and a high-tech theatre on top of a roof. Its expert team also built the largest modular building in Ireland. For more information, please visit http://www.mcavoygroup.com/.
About Viewpoint Construction Software
Viewpoint is a provider of innovative construction-specific software solutions to the global construction and capital project industries. Viewpoint provides the tools these industries need to improve project profitability through better visibility, risk management and real-time team collaboration. Viewpoint solutions address the full construction life-cycle from planning/bidding to construction and facilities maintenance. Viewpoint's solutions are offered on a variety of platforms, including Cloud, Mobile, SaaS and On Premises. Headquartered in Portland, Oregon, USA, and with offices in the UK and Australia, Viewpoint has become the technology partner of choice, with customers located across the globe in more than 28 countries. These customers include more than 95% of the Top 20 Contractors and 76% of the Top 30 in the UK, according to Construction Enquirer. For more information, please visit http://www.viewpoint.com.
© 2016 Viewpoint, Inc. dba Viewpoint Construction Software. All Rights Reserved. Viewpoint®, Viewpoint Construction Software®, Vista™ by Viewpoint, ProContractor™ by Viewpoint, Viewpoint For Content Management™, Viewpoint For Mobile™, Viewpoint For Projects™, Viewpoint For Field View™, Viewpoint For Estimating™, and Jobpac by Viewpoint are trademarks or registered trademarks of Viewpoint, Inc., in the United States and/or other countries. Other names and brands may be claimed as the property of others.