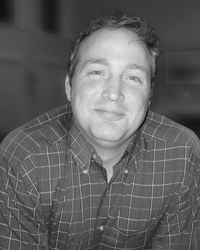 Orlando, Fl (PRWEB) July 12, 2016
Corporate Learning Network has invited Nick Washburn, Director of Riptide Software Learning Division, to speak at their second annual Corporate Learning Analytics Conference in Nashville, TN July 25th-27th, 2016. Nick Washburn will be presenting on Tuesday July 26, as the closing insight for the day. His presentation is outlined below:
Nick Washburn has been successfully working with high-tech entrepreneurs and for some of the world's top brands for over 20 years. Since 2005, he has led the design and development of enterprise distance-learning training technology solutions used by Fortune 50 and 500 companies and the U.S. Department of Defense. Riptide Elements® product development aligns with the goals of the Advanced Distributed Learning (ADL) Initiative, and Nick is listed as a member of the workgroup that created the Experience API (xAPI).
Title: Demystifying Learning Enterprise Architecture
There is much to consider in the rapid growth of technology, namely in the modernization of today's medium-to-large enterprise. Is there a solution to meet the demand of today's learners and future-proof your corporate learning? People are accessing content on-the-go with a variety of mobile devices while many enterprise learning departments are able to only deliver, track, and report on content that is locked in an LMS.
Key Takeaways:

Learn how xAPI and LRS' can improve tracking and reporting of key metrics
See real client cases of organizations maximizing their ecosystems and utilizing xAPI/LRS'
How to get started with implementing new training tech initiatives.
For more information about Corporate Learning Analytics 2016 or to register, visit: http://www.learninganalyticsevent.com/
About Riptide Learning
The Riptide Learning Division brings Riptide Elements® learning products to the web/mobile international market. Elements is a flexible, scalable, and configurable platform of learning services (courseware, LRS, authoring, curriculum management, reporting & analytics, and hosting). Riptide staff members are active participants in the community developing xAPI—the benchmark in learner experience tracking.
About Corporate Learning Network
As an online resource for corporate learning leaders and academic professionals, Corporate Learning Network believes the Future of Learning will be created through multidisciplinary approaches and peer-led exchange. Through our live conferences, community webinars and virtual forums, we bring together stakeholders across the L&D spectrum to help you realize your plans for improved learning outcomes and organizational success.