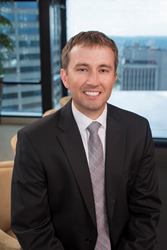 Adding Jonathan contributes to our strategic growth plan for the firm. -Charles W. Bone, Chairman
Nashville, TN (PRWEB) July 12, 2016
Jonathan R. Burns concentrates his law practice in the areas of estate planning, probate, corporate law, mergers and acquisitions, real estate and taxation.
"Adding Jonathan contributes to our strategic growth plan for the firm," said Chairman Charles W. Bone. "He brings significant experience in the estate planning and taxation areas of law which is especially important to our clients. He's a welcome new member of our dynamic group of highly skilled attorneys."
Jonathan received his J.D. from the University of Mississippi in 2010 and received his L.L.M. in Taxation from Washington University in St. Louis in 2011. He graduated cum laude from Middle Tennessee State University in 2006 with a Bachelor in Business Administration degree. Jonathan is licensed to practice in both Tennessee and Mississippi.
Before joining Bone McAllester Norton, Jonathan practiced law with Watkins & McNeilly where he was able to develop his skills in the areas of business law and estate planning.
About Bone McAllester Norton PLLC
Bone McAllester Norton PLLC is a full-service law firm with 40 attorneys and offices in Nashville, Sumner and Williamson counties, Tennessee. Our attorneys focus on 19 distinct practice areas, providing the wide range of legal services ordinarily required by established and growing businesses and entrepreneurs. Among our practices, we represent clients in business and capital formation, mergers and acquisitions, securities matters, commercial lending and creditors' rights, commercial real estate and development, governmental regulatory matters, commercial litigation and dispute resolution, intellectual property strategy and enforcement, entertainment and environmental matters. Our client base reflects the firm's deep understanding and coverage of today's leading industry and business segments. For more information, call 615-238-6300 or visit http://www.bonelaw.com.