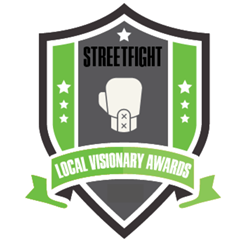 (PRWEB) July 12, 2016
Today, Street Fight (http://streetfightmag.com), the leader in information and events for the local marketing technology industry, announced announced the kick-off of the 2nd Annual Local Visionary Awards (http://streetfightmag.com/local-visionary-awards-2016/), a 13-category competition designed to honor the very best individuals, organizations and ideas in local.
The awards will be presented to winners as part of the program on Oct. 25th in New York City at Street Fight Summit 2016. For the past five years, Street Fight Summit has brought together the top-level executives in local digital marketing, and the Local Visionary Awards will acknowledge individuals and brands whose contributions are moving the industry forward.
The awards will recognize achievement in several categories, including:
Best New Product
Best On-Demand App or Service
Best Solution for a Specific SMB Vertical
Best Dashboard for Managing Local Campaigns
Most Effective Integration with an External API
Most Creative Use of Data in Local Campaigns
Best Multichannel Local Campaign
Most Innovative Local Media Business Strategy
Best Online-to-Offline Attribution Product
Best Marketing Campaign for Your Product
Innovator of the Year
"For five-plus years, we have tracked the evolution of local, from the trendy daily deals then to the trendy chatbots today. Local is continuously inventing and innovating, and for the second year in a row, we're honoring the best of these developments with the Local Visionary Awards," said Laura Rich, CEO of Street Fight. "Best of all, reflecting the spirit of what we bring to the industry, winners get engraved fighter belts."
The winners will be determined by a panel of judges, including David Card of Street Fight Insights, Brett Leary of DigitasLBI_US, Matt Booth of Connectivity, Charity Huff of Maroon Ventures, and local SEO expert David Mihm.
Submissions for the Local Visionary Awards will be open from July 11, 2016 through September 2, 2016. Finalists will be announced on October 5, 2016 and winners will be revealed live at Street Fight Summit 2016 (http://streetfightsummit.com) in New York City on October 25, 2016.
"Our content on our site and on our stage continually challenges the industry by showcasing best practices and new insights," says Street Fight COO David Hirschman. "By featuring the best in the industry, I'm confident these awards will spark even more interesting dialogue around what's coming next in this dynamic industry."
About Street Fight
Street Fight is an integrated media company focused on the business of hyperlocal marketing, commerce and technology. Street Fight produces a daily industry newsletter, publishes commentary, original research, case studies, and how-to articles on their website, and hosts a series of live annual events to help the hyperlocal ecosystem achieve sustainable business models. To learn more, visit http://streetfightmag.com or contact us directly at info(at)streetfightmag(dot)com.