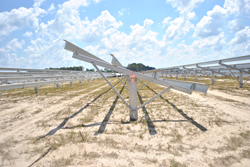 RBI Solar will be launching its next generation ground mount solution at Intersolar North America.
Cincinnati, OH (PRWEB) July 11, 2016
RBI Solar, Inc., a Cincinnati-based solar mounting systems manufacturer, is exhibiting at Intersolar North America 2016 in San Francisco, California. The event includes four days of solar education, innovations, and networking at the Moscone Center from July 11, 2016 through July 14, 2016. Engineers, sales representatives, technical specialists, and executives from RBI Solar will be available to answer questions about solar racking systems at booth #9511.
RBI Solar will be launching its next generation ground mount solution at Intersolar North America. This new model features new innovations and a wider selection of component parts specifically designed to make installation more affordable for commercial and utility-scale ground mount projects. After undergoing a rigorous testing regimen, the RBI Solar next generation ground mount achieved ETL Classification to UL Standard 2703 for bonding and grounding. The structure will be available for viewing and demonstrations at the RBI Solar booth.
The Intersolar conference will host conference speakers discussing important technologies and innovations in solar energy storage, financial tools, legislative actions, and market trends contributing to the global growth of the solar industry. Guests will also have access to over 500 solar industry exhibitors at the event.
About RBI Solar:
RBI Solar, Inc. is the leading turn-key supplier of solar mounting systems. As a specialist in ground mount, roof mount, carport, and landfill solar structures, RBI Solar focuses on providing the most robust solar racking systems, installation services, and project management capabilities to serve owners and integrators. RBI Solar has engineers and staff licensed in all 50 states and offers complete design, high-tech manufacturing, nationwide installation, and technical support to help solve the toughest challenges in the industry. Leveraging over 80 years of experience in the commercial design-build specialty structures market, RBI Solar works with its clients to identify the most economic and durable solar mounting solutions.
About Intersolar:
With events spanning four continents, Intersolar is the world's leading exhibition series for the solar industry and its partners. It unites people and companies from around the world with the aim of increasing the share of solar power in our energy supply. By providing first-rate services, Intersolar exhibitions and international conferences bring businesses, technologies, and people from the most important markets around the globe together. The Intersolar team has more than 20 years of experience in opening up markets, providing specialist knowledge and creating links: Connecting Solar Business!