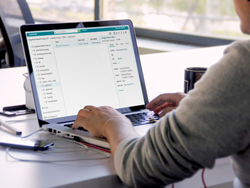 Our integration with Laserfiche will enable customers to sign documents online directly from within Laserfiche Web Access™ using SIGNiX.
CHATTANOOGA, Tenn. (PRWEB) July 12, 2016
SIGNiX, the leading provider of cloud-based Independent E-Signature™ solutions, announced today that its e-signature integration with Laserfiche is available on the Laserfiche Integration Marketplace. Laserfiche is an award-winning enterprise content management (ECM) solution that provides intuitive tools for business process automation, document management and records management.
"Our integration with Laserfiche will enable customers to sign documents online directly from within Laserfiche Web Access™ using SIGNiX," said Jay Jumper, CEO of SIGNiX. "The entire process is intuitive and seamless—providing the essential e-signing capability without having to manage multiple third-party vendors and software."
The integration enhances users' productivity and efficiency within their workflows, as well as offers Laserfiche and SIGNiX partners a new opportunity to provide added value to their customers.
"Laserfiche ECM helps organizations reduce costs and streamline business processes with pre-configured templates for contract management, accounts payable, human resources and many other areas," said Thomas Phelps IV, Vice President of Corporate Strategy and CIO of Laserfiche. "By integrating SIGNiX with Laserfiche ECM, organizations will benefit from executing legal agreements using independent e-signatures to get business done faster."
With the integrated solution, users may select one or more PDFs to send in a single transaction. The documents are then automatically routed through the SIGNiX signature process. When the signing process is complete, documents are automatically imported back into the Laserfiche Repository.
Customers also have the ability to set up fields to be automatically filled when a document is signed. They can also establish specific workflow rules, which can, for example, automatically route a signed document to reside in a specific folder once completed—further creating a seamless, efficient and multi-faceted document management system.
The integration features SIGNiX's Independent E-Signature™ technology, which is fundamentally different than other e-signature products on the market. Its Independent E-Signatures™ permanently embed the legal evidence of an e-signature directly into a signed document, which keeps e-signatures and digital documents valid into the future—no matter how technology changes. This, along with data privacy assurance and security measures—such as its TotalAudit™ technology, tamper evidence and identity authentication—provide users with vendor freedom and protection against unforeseen risks in an evolving digital environment.
To learn more about the SIGNiX integration with Laserfiche, visit https://www.laserfiche.com/marketplace/signix/.
About SIGNiX
SIGNiX, the most trusted name in Independent E-Signatures™, makes signing documents online safe and secure with comprehensive legal evidence permanently embedded in each document to eliminate any dependence upon SIGNiX. The company's cloud-based service uses patented technology to give businesses and organizations the most secure and legally defensible e-signatures available at a fraction of the cost of wet ink signatures. SIGNiX's products help the world's leading companies become more efficient, decrease risk and boost profits. For more information, visit http://www.signix.com. You can also follow SIGNiX on Twitter @signixsolutions, LinkedIn, Facebook and Instagram.
About Laserfiche 
Laserfiche is a global software development company focused on Enterprise Content Management (ECM) and business process automation solutions for highly regulated industries such as financial services, education, government and healthcare. Laserfiche transforms how organizations manage information, automate document-driven business processes and meet compliance requirements cost effectively. Laserfiche provides intuitive solutions for capture, electronic forms, workflow, case management, cloud, mobile and government-certified records management. Since 1987, Laserfiche has been the trusted choice of more than 35,000 organizations worldwide. For more information, visit http://www.laserfiche.com or follow Laserfiche on Twitter, LinkedIn, Facebook and Google+.
Laserfiche®, Run Smarter® and Compulink® are registered trademarks of Compulink Management Center, Inc.