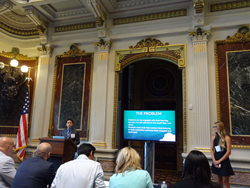 "While all of the finalists did a great job, I believe Journeys best satisfies the criteria for the winning prize. The Journeys team did a great job communicating our game changing capabilities to the judges." - Peter Sibley, CEO
San Diego, CA (PRWEB) July 12, 2016
With a constantly evolving college and career landscape, students have become overwhelmed and lack the support needed to plan their future. The Reach Higher Challenge Demo Day, spearheaded by First Lady Michelle Obama, was held on July 7, 2016 at the White House to identify apps students and educators can use to address this critical problem. The INFORM Journeys team traveled to D.C. to compete as one of five national finalists.
With many dignitaries in attendance, Demo Day began with opening comments from:
-Kim Ford – Deputy Assistant Secretary, Office of Career, Technical, and Adult Education, U.S. Department of Education
-Megan Smith – U.S. Chief Technology Officer, Office of Science and Technology Policy, Executive Office of the President
-Albert Palacios – Education Program Specialist, Office of Career, Technical, and Adult Education, U.S. Department of Education
Each of the five finalist teams performed a 10-minute presentation, followed by an 8-minute Q&A and 10-minute live demo. The presentation was led by Scott Sibley, Director of Journeys, and Rachel Sibley, Digital Marketing Assistant, with Judy Steingass, Director of Customer Experience, leading the demo portion. Each team was judged on their ability to satisfy seven key requirements: actionable outcomes, target market, scalability, market differentiation, team, iteration & improvement and the ability to be transformative. The highly qualified judging panel included:
-Aarti Dhupelia – Vice President of Strategic Initiatives, National Louis University
-Gale Halsey – CLO and Director, Global Learning and Organization Development, Ford Motor Company
-Arrun Kapoor – Managing Director, SJF Ventures
-Cory Notestine – Counseling & Postsecondary Coordinator, Colorado Springs School District 11
-Daniel Weitzner – Director & Principal Research Scientist, MIT Computer Science and Artificial Intelligence Laboratory
"My assessment is that we are a top competitor out of the field of five finalists," said Peter Sibley, CEO, who was also in attendance. "While all of the finalists did a great job, I believe Journeys best satisfies the criteria for the winning prize. The Journeys team did a great job communicating our game changing capabilities to the judges. Several demo day attendees commented that the Journeys learning map was intuitive, simple and powerful. I am very hopeful of being selected."
The winner will be announced in a few weeks and will be awarded the grand prize of $100,000.
About the Reach Higher Career App Challenge
The Reach Higher Career App Challenge is part of a series of prize competitions conducted by the U.S. Department of Education which seek to spur the development of new technology, products, and resources that will prepare students for the high-skill, high-wage, and high-demand occupations of tomorrow. The Challenge called upon app developers, educators, and data mavens to submit mobile solutions that help students navigate education and career paths, and increase the capacity of career counselors to serve students. Learn more at http://www.reachhigherchallenge.com
About INFORM Journeys
INFORM Journeys is a division of San Diego based EDmin, Inc. EDmin is dedicated to helping every student have access to an interactive learning map with detailed directions to life's possibilities. Journeys will provide learners of all ages a "voice and a choice" on their path to reach their academic and career goals. For more information, please visit http://www.informjourneys.com or follow INFORM Journeys on Facebook, Instagram, Twitter and YouTube.