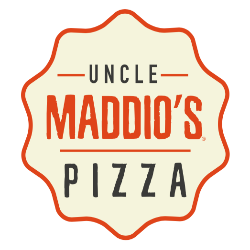 . "The state of Alabama has been very successful for us as we expand our franchise across the country.," said Matt Andrew, Founder and CEO.
Madison, ALA (PRWEB) July 15, 2016
Uncle Maddio's Pizza will open its first Huntsville, Alabama-area restaurant in Madison, AL on July 15, 2016. The fast-casual handcrafted pizza restaurant is located in the Cornerstone Place shopping center at 8048 US Hwy 72 West and seats 85 guests plus 25 seats on the outside patio. To celebrate the opening, Uncle Maddio's will serve free 9-inch, build-your-own, three-topping pizza to guests in line from 11 a.m. to 2 p.m. on Saturday, July 16.
In addition to free pizza on Saturday 7/16, the grand opening weekend has an exciting lineup of offers and events listed below.

7/15- Visit http://www.facebook.com/unclemaddiosmadison starting 7/7 and sign-up for a free, three topping pizza for dine in guests for Friday, July 15.
7/16- On brewery night Uncle Maddio's will offer $2 beer and feature live music.
7/17- On Sunday, July 17, Kids eat free and are entertained by a Face Painter and other activities
7/18- Join Maddio every Monday night for Maddio Monday, and get a 3 topping pizza and a drink for $7.99
Uncle Maddio's is a next generation pizza restaurant that lets guests build their own pizza exactly how they want it, cooked in fast baked ovens, and served to their tables in about six minutes. Guests choose from one of three crusts, including a delicious gluten-free option, and 48 toppings, including six sauces, 27 vegetables and 15 meats. Everything is fresh, from the pizza dough and sauce that's made in-store each day to the wide variety of veggies. For guests looking to expand their pizza horizons, Uncle Maddio's also offers signature pizzas ranging from the meaty Big Max to the spicy Jamaican Jerk. Create-your-own salads and Foldwich™ sandwiches round out the Italian-inspired menu. The restaurant also offers a selection of craft beers and wine.
"Uncle Maddio's has been a hit in Alabama and we're excited to bring the concept to Madison and Huntsville," said Jeromy Gwin, Uncle Maddio's of Madison franchisee and Operating Partner. "We can't wait to introduce the market to our amazing menu, and blow them away with our customer service based on the Uncle Maddio's Served with Love Guarantee. We may appear similar to our competitors from the outside, but once inside we're fresh, welcoming and completely unique. We feel blessed by opportunity, and we're anxious to begin serving our guests."
The Uncle Maddio's of Madison is owned and operated by Jeromy and Rosemary Gwin of Madison and owners Attorneys John and Joy Howard of Madison and former Army LTC Brian and Denise Brandt of Athens, AL.
Before the Uncle Maddio's franchise venture, Gwin was an owner/operator for Chick-fil-A. He has more than a dozen years in the restaurant business and along with his partners plans to open a second restaurant in Huntsville in November.
"Alabamians in Mobile, Birmingham and Auburn have come to know and love our pizza in their hometowns and we plan to make the residents in the Huntsville area to feel the same," says Matt Andrew, CEO and founder of Uncle Maddio's. "The state of Alabama has been very successful for us as we expand our franchise across the country."
Since launching its aggressive growth plan in 2008, Uncle Maddio's has signed franchise agreements with 67 different entities in 18 states. Many of Uncle Maddio's franchisees have previous multi-unit experience with Jimmy John's, Firehouse Subs, Dairy Queen, McDonald's, Burger King, Krystal, Papa John's, Domino's and Golden Corral.
For information on Uncle Maddio's Pizza, visit http://www.unclemaddios.com. Interested franchisees can visit unclemaddiosfranchise.com or contact Jocelyn Blain at franchising@unclemaddios.com.
About Uncle Maddio's Pizza With more than 1,350 Pizza Makers making more than 5,000,000 pizzas a year, Uncle Maddio's Pizza is category leader of the create-your-own, fast casual pizza restaurants. Opening 50 locations in 15 states, Uncle Maddio's has more than 250 units in development. Uncle Maddio's pizzas are customizable, made-to-order, and served up fast for about $8. With four pizza sizes, three types of crusts (including gluten free), six sauces and 48 fresh toppings, Uncle Maddio's has the freshest and largest menu in the category. The restaurant's unique fast bake ovens offer the most throughput in the industry and can produce 200 pizzas per hour. Uncle Maddio's also serves Foldwiches™ and salads. Uncle Maddio's 'Served with Love' philosophy and restaurant is for everyone - children and families, college students, the young and the young at heart - and includes extensive community involvement. Based in Atlanta, the Uncle Maddio's management team has 50 years combined experienced in the fast casual category. http://www.unclemaddios.com
Click here for photos: Uncle Maddio's Photos and Madison franchisees: Attorneys Joy and John Howard of Madison, Rosemary and Jeromy Gwin of Madison, and former Army LTC Brian (right) and Denise Brandt of Athens, AL. https://www.dropbox.com/home/Uncle%20Maddio's%202016/Franchisees/Huntsville%20Madison
Twitter: @UncleMaddios
Instagram: https://www.instagram.com/unclemaddios/
Pinterest: https://www.pinterest.com/unclemaddios/
Facebook: https://www.facebook.com/unclemaddios