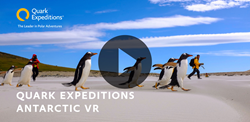 Our Antarctic 360° VR Experience transports people to the 7th continent, guided by our expert Expedition Team, to explore the beauty and encounter amazing wildlife and be inspired to experience it in person.
Seattle, WA (PRWEB) July 14, 2016
Quark Expeditions®, the world leader in polar expedition travel, is celebrating the recent release of its 2017.18 Antarctic expedition schedule with the launch of its Virtual Reality Antarctic Experience and Antarctic VR app.
The 360° VR Antarctic Experience, now view-able at QuarkExpeditions.com, on YouTube, and on Quark's social media channels, is a most unique way to bring Antarctica to life for polar enthusiasts and adventure travelers researching and planning their trip. Viewers will be able to virtually explore Antarctica with Quark, the first polar travel company to offer a complete Antarctic voyage in immersive 360° video and on a mobile VR app.
"Quark is always looking for innovative ways to showcase our expeditions and spark travelers' interest in exploring the Polar Regions," said Rachel Hilton, Vice President of Customer Experience, Quark Expeditions. "Our Antarctic 360° VR Experience transports people to the 7th continent, guided by our expert Expedition Team, to explore the beauty and encounter amazing wildlife and be inspired to experience it in person."
Filmed using GoPro cameras on board a voyage in February 2016, the Antarctic 360° VR Experience video series showcases different ways to explore the 7th continent and offers viewers the unique opportunity to participate in key aspects of a journey: Life onboard the ship, cruising on Zodiac landing craft, exploring on the Antarctic continent, kayaking, and learning about history and wildlife from Quark's Expedition staff.
For a truly immersive experience on VR headset, the Quark Expeditions Antarctic VR mobile app is available for download at Google Play and the iPhone App store. Quark's Antarctic VR app was developed by VRCraftworks Ltd. Based in Brighton, England, VRC builds Virtual Reality experiences for business, and has been breathing life into VR ideas since the first Oculus Rift headset in 2014.
Immerse Yourself in Antarctica Sweepstakes
Virtual voyagers to the 7th Continent will also have the opportunity to enter Quark's Immerse Yourself in Antarctica Sweepstakes for a chance to win a trip for two on the popular Antarctic Explorer: Discovering the 7th Continent expedition ! Visit QuarkExpeditions.com/VRSweepstakes for details.
360° VR Viewing Tips
For an optimal viewing experience, make the latest Operating System and Browser updates on your computer or mobile device. On mobile phone or tablet, download the YouTube app for easy viewing. When watching the videos, simply rotate your mobile phone, use your finger on tablet or use the mouse on computer to navigate the gorgeous panoramic 360° footage. Don't forget to go full-screen and turn up the sound!
To learn more about Quark's Antarctic and Arctic expeditions, please call one of our expert Polar Travel Advisers at (888) 892.0073 or +1.800.536.5699 or visit QuarkExpeditions.com.
Tweet: Another 1st from @QuarkExpedition! #Antarctica in amazing 360° #VR! You won't believe your eyes! #travelwithquark http://hubs.ly/H03x9HQ0
Post: #QuarkExpeditions brings #Antarctica to life in amazing 360° VR! Now you can take a virtual voyage with Quark to explore the beauty and wildlife of Antarctica. You won't believe your eyes! #travelwithquark #Antarctica #VRtravel http://hubs.ly/H03x9HQ0
About Quark Expeditions®:
Specializing in expeditions to the Arctic and Antarctic, Quark Expeditions® has been the leading provider of polar adventure travel for 25 years. With a diverse fleet of specially-equipped small expedition vessels, icebreakers, and unique land-based adventures, it offers travelers unparalleled access to the most remote places on earth. Led by passionate and seasoned expedition teams, including scientists, naturalists and researchers, the on-board program focuses on guest interaction to educate and enrich the passenger experience. The company is known for its unwavering commitment to safety and sustainability, including its partnership with The Nature Conservancy (USA). It also offers passengers — free of charge — carbon offsetting aboard Ocean Diamond and Ocean Nova voyages.
About the TUI Adventure Division:
The TUI Adventure Division offers premium, experience-based adventure holidays and expeditions worldwide for active travelers. In addition to QuarkExpeditions.com, the division includes expedition specialists IEtravel.com and Zegrahm.com; leading European adventure and activity specialists ExodusTravels.com, Headwater.com, World-Challenge.co.uk, Sawadeee.nl, TrekAmerica.co.uk and GrandAmericanAdventures.com; as well as US-based destination management company AmericanAdventures.com. From reaching the top of Kilimanjaro and canoeing on the Zambezi, to catching tiger cub sightings and breaking ice en route to the North Pole, the TUI Adventure Division offers inspirational experiences that create lifelong memories.