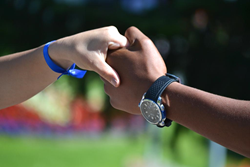 IB World Student Conferences discuss global issues which concern us all and develop innovative solutions to address them.
(PRWEB) July 13, 2016
Les Roches International School of Hotel Management, a top-ranked hospitality management school hosted the International Baccalaureate® (IB) World Student Conference on 3-9 July 2016 in Bluche, Switzerland. The conference brought together students from accredited IB schools across the world to connect and engage on the theme "Global Citizenship: Exploring Individual and Collective Responsibilities". Participants met in groups to discuss a range of topics related to the conference theme and engaged in debates around sustainability and social responsibilities.
Comprised of student workshops in Global Action Teams, the event program spanned five full days and included addresses by prominent speakers from the United Nations Conference for Trade and Development (UNCTAD), the World Economic Forum (WEF), as well as professors from Les Roches and INSEAD Business School and a former IB student and founder of a cancer association. The discussions ranged from current universal challenges and the role of businesses today, to the individual and collective values, responsibilities and actions of global citizens to help communities and build a better world.
Since its foundation in 1954, Les Roches has been preparing young adults entering the job market, expanding its unique network of campuses across Switzerland, Spain, China, Jordan and most recently the US. "This global approach to learning forms the cornerstone of Les Roches as an institution and our educational model. As a result, we develop well-rounded, agile and innovative graduates, equipped with a global mind-set who go on to becoming culturally fluent leaders ready to embrace and take responsibilities in an ever-changing business world," said Sonia Tatar, CEO of Les Roches Worldwide.
Dr. Siva Kumari, Director General of the International Baccalaureate: "IB World Student Conferences are the perfect opportunity for our students from all over the world to do what the IB does best: an ability to discuss the global issues which most concern us all and design and develop innovative solutions to address them. It's a chance to build meaningful relationships, to deepen the international understanding and leadership skills which will benefit them far beyond the conference. It's a chance for the IB and for me personally, too—meeting IB students is one of the best parts of my job, as it re-affirms the huge potential which our students have—truly the chance to build a better world through education."
The IB World Student Conference brought together close to 300 students from over 20 nationalities and was held in Switzerland for the first time. Les Roches is the first hospitality management school to host the event.
For more information about the conference please visit: http://www.ibo.org/university-admission/ib-world-student-conference/WSC2016Bluche/
Les Roches International School of Hotel Management
Founded in 1954, Les Roches International School of Hotel Management is a private institution based on the Swiss model of education, offering degree programs in the fields of hospitality, tourism and event management. Les Roches prepares entrepreneurial and innovative graduates across a global network of campuses in Switzerland, Spain, the US, China and Jordan. Les Roches is accredited at the university level by the New England Association of Schools and Colleges, Inc. (NEASC) and ranked by luxury hotel hiring managers among the top three hospitality management schools in the world for an international career (TNS Global Survey,2013).
For more information, please visit http://www.lesroches.edu
About the International Baccalaureate
Founded in 1968, the International Baccalaureate (IB) is a non-profit foundation, which offers four high quality and challenging educational programmes for a worldwide community of schools. For close to 50 years, IB programmes have gained a reputation for their rigour and high academic standards, for preparing students for life in a globalized 21st century, and for helping to develop citizens who will create a better, more peaceful world. Currently, more than 1.3 million IB students attend over 4,500 schools in 147 countries.
To learn more, please visit http://www.ibo.org
PRESS CONTACTS
Les Roches International School of Hotel Management
Alexia Lepage
Senior International Public Relations Manager
Tel: +41 21 989 26 63
alexia.lepage(at)laureate(dot)ch
International Baccalaureate Organization
Laura Carrero Wellesley
Global Recognition Manager
Tel: +1 301 202 3156
laura.carrero(at)ibo(dot)org