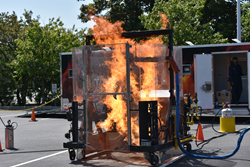 Virginia Beach, VA (PRWEB) July 16, 2016
ADS, Inc. is set to host Warrior Expo East at the Virginia Beach Convention Center on July 14 and 15. Attendance is limited to authorized DOD; federal, state and local government; law enforcement; and first responders. Event attendees will need to bring a military or agency ID to gain entry. Former Director of the Central Intelligence Agency and the National Security Agency, General Michael Hayden will be the event's keynote speaker.
Warrior Expo East is a unique opportunity for end users, program managers and procurement specialists to meet leading solutions providers to the defense industry. This year's Warrior Expo East will feature:

o Indoor Shoot House-Experience first-hand solutions for firearm training programs to be safer, efficient, cost-effective and gun smoke free.
o Dark Room Night Vision Lab-Test the latest night vision and thermal energy technology in a dark room designed for a realistic simulation. The Night Vision Lab is a 20 x 20 ft. dark room intended where Exhibitors can demonstrate their products' night vision and thermal energy capabilities one-on-one with attendees.
o DuPont™Thermo-Man®-The world's most advanced life-size thermal burn injury evaluation system. It's a critical tool in developing flame-resistant fabrics for the toughest military challenges.
Full schedule of events for Warrior Expo East 2016: https://adsinc.com/warrior-expo/
###
About ADS, Inc.
ADS Inc. is a leading value-added logistics and supply chain solutions provider that proudly serves all branches of the U.S. Military, federal, state and local government organizations, law enforcement agencies, first responders, partner nations and the defense industry. ADS is a Top 50 Department of Defense Contractor and Gold Tier supplier for the Defense Logistics Agency. The company is focused on solving customers' challenges by providing the best product and service offerings, the broadest array of procurement and contract options, world-class support and legendary customer service.
FOR IMMEDIATE RELEASE
Press Contact
Rio Ziegler, PR Director, Davis Ad Agency, 757-627-7373, rziegler(at)davisadagency(dot)com