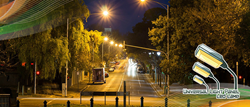 "The Energy industry is worth $1.3 trillion," says Scott Cooper, CEO and Creative Director of World Patent Marketing. "It is an enormous industry and Sherman's Universal Street Lights will cut costs for everyone involved."
Miami, FL (PRWEB) July 15, 2016
World Patent Marketing, a vertically integrated manufacturer and engineer of patented products, announces Sherman's Universal Street Lights, a naturally-powered light that will save greatly in electricity costs.
"The Energy industry is worth $1.3 trillion," says Scott Cooper, CEO and Creative Director of World Patent Marketing. "It is an enormous industry and Sherman's Universal Street Lights will cut costs for everyone involved."
"Everyone needs electricity," says Jerry Shapiro, Director of Manufacturing and World Patent Marketing Inventions. "These lights will change the way streets are lit at night, with very effective but low-cost LED lights."
Sherman's Universal Street Lights With Upgradeable and Replaceable LED are long-lasting lights that run on natural energy. Once the sun goes down, all streets have to be lit up so people can see, but this uses up a massive amount of electricity every day. Sherman's Universal Street Lights are solar and wind-powered, allowing them to function with the power of nature and very little electricity. These lights come equipped with a solar panel and a wind turbine that gather energy throughout the day to lower the amount of electricity needed to keep the lights on at night.
"Let there be light, and then there appeared Sherman's lighting. No more Darkness," says inventor Larry S, "Sherman's perpetual lighting lights up the world naturally just like Mother Nature intended. No PCBs, just LED innovation. When you hear the name Sherman, you know it's bright! No more night, with Sherman's lights."
Carl Wayan, a construction worker from South Dakota had this to say about Sherman's Universal Street Lights: "Sherman's Lights are both brighter and more cost-effective than standard street lights. They save a lot of money."
Sherman's Universal Street Lights are an energy invention that will save money on electricity costs.
ABOUT WORLD PATENT MARKETING
World Patent Marketing is an innovation incubator and manufacturer of patented products for inventors and entrepreneurs. The company is broken into eight operating divisions: Research, Patents, Prototyping, Manufacturing, Retail, Web & Apps, Social Media and Capital Ventures.
As a leader in patent invention services, World Patent Marketing is by your side every step of the way, utilizing our capital and experience to protect, prepare, and manufacture your new product idea and get it out to the market. Get a patent with World Patent Marketing and the company will send representatives to trade shows every month in order to further advocate for its clients. It is just part of the world patent marketing cost of doing business.
World Patent Marketing Reviews enjoy an A+ rating with the Better Business Bureau and five star ratings from consumer review sites including: Consumer Affairs, Google, Trustpilot, Customer Lobby, Reseller Ratings, Yelp and My3Cents.
World Patent Marketing is also a proud member of the National Association of Manufacturers, Duns and Bradstreet, the US Chamber of Commerce, the South Florida Chamber of Commerce, the Greater Miami Chamber of Commerce, Association for Manufacturing Excellence, and the New York Inventor Exchange.
Like the World Patent Marketing facebook page. And, add us on Twitter and YouTube. You may also contact us at (888) 926-8174.