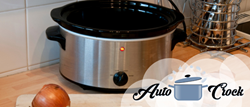 "The Home Appliance industry is worth $104 billion," says Scott Cooper, CEO and Creative Director of World Patent Marketing. "This invention is a key addition to every home and will slowly build the industry."
Miami, FL (PRWEB) July 15, 2016
World Patent Marketing, a vertically integrated manufacturer and engineer of patented products, announces the Auto Crock, a cooking appliance that automatically stirs food inside the pot to prevent it from getting burned over a long period of time.
"The Home Appliance industry is worth $104 billion," says Scott Cooper, CEO and Creative Director of World Patent Marketing. "This invention is a key addition to every home and will slowly build the industry."
"There are many problems involved in cooking," says Jerry Shapiro, Director of Manufacturing and World Patent Marketing Inventions. "The Auto Crock is a low cost and convenient invention that can potentially prevent hazards in the kitchen."
One of the most common problems while cooking is leaving things on the stove for too long and letting them burn. The oven must be carefully monitored to ensure that the food is removed from the fire before too long. The Auto Crock takes care of that step. It is a cooking pot that automatically stirs its content to prevent the food from sitting in one place and burning. It contains a non-stick stirring rod that ensures that the food stays warm but does not burn for several hours, meaning that the food does not have to be constantly monitored. This saves a lot of time for busy people.
"Are you a busy person like everyone else in America, and finding it harder to do day to day things like cooking?," says inventor Kevin H, "Take the frustration out of your day by using the Auto Crock, the first ever self-stirring crock pot. Just put your meal in the crock pot and set the LED timer for stirring intervals. With its non-stick stirring paddle, you can cook your family's meal and still have time to do your other chores, like playing with the kids, cleaning the house, or taking care of the yard. Put all your cooking needs behind you with the Auto Crock!"
Victoria Parnell, a stay at home mom with three children from Oakland, California, has this to say about the Auto Crock: "I used to hate having to keep an eye on the food for hours just to make sure it didn't burn. With the Auto Crock, I can take care of my kids and come back to the food when I have some time."
The Auto Crock is a home cooking appliance that will make it much easier to cook meals while not burning them.
ABOUT WORLD PATENT MARKETING
World Patent Marketing is an innovation incubator and manufacturer of patented products for inventors and entrepreneurs. The company is broken into eight operating divisions: Research, Patents, Prototyping, Manufacturing, Retail, Web & Apps, Social Media and Capital Ventures.
As a leader in patent invention services, World Patent Marketing is by your side every step of the way, utilizing our capital and experience to protect, prepare, and manufacture your new product idea and get it out to the market. Get a patent with World Patent Marketing and the company will send representatives to trade shows every month in order to further advocate for its clients. It is just part of the world patent marketing cost of doing business.
World Patent Marketing Reviews enjoy an A+ rating with the Better Business Bureau and five star ratings from consumer review sites including: Consumer Affairs, Google, Trustpilot, Customer Lobby, Reseller Ratings, Yelp and My3Cents.
World Patent Marketing is also a proud member of the National Association of Manufacturers, Duns and Bradstreet, the US Chamber of Commerce, the South Florida Chamber of Commerce, the Greater Miami Chamber of Commerce, Association for Manufacturing Excellence, and the New York Inventor Exchange.
Like the World Patent Marketing facebook page. And, add us on Twitter and YouTube. You may also contact us at (888) 926-8174.