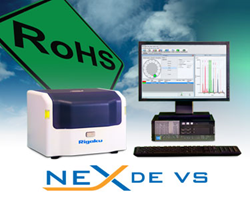 Austin, Texas (PRWEB) July 18, 2016
Applied Rigaku Technologies, Inc. has announced a new empirical method for the measurement of toxic elements in plastics by energy dispersive X-ray fluorescence (EDXRF). Rigaku EDXRF Application Note #1602 describes the measurement of chromium (Cr), mercury (Hg), lead (Pb), bromine (Br) and cadmium (Cd) in polyethylene (PE), and demonstrates the performance of the Rigaku NEX DE VS EDXRF spectrometer.
The Restriction on Hazardous Substances initiative (RoHS) limits the allowable amounts of toxic elements in plastics and consumer goods. Energy dispersive X-ray fluorescence is an established analysis technique for rapid screening and quantification of the hazardous elements according to RoHS norms.
For the analysis detailed in this report, measurement was performed using the NEX DE VS analyzer equipped with automatic collimators and a camera for sample positioning and imaging. The unit is designed to give QA/QC technicians a means for fast, simple screening and analysis of materials that must conform to RoHS and similar directives.
The new application report includes information about method calibration and sensitivity validation, as well as details about the instrument's RoHS software and reporting.
The results detailed in the report show outstanding performance by the NEX DE VS analyzer, which provides exceptional sensitivity and reliable precision for RoHS rapid screening by EDXRF down to 1 mm spot size.
A copy of this application report may be requested on Rigaku's EDXRF website:
http://www.rigakuedxrf.com/edxrf/app-notes.html?id=1602_AppNote
About Rigaku
Since its inception in Japan in 1951, Rigaku has been at the forefront of analytical and industrial instrumentation technology. Rigaku and its subsidiaries form a global group focused on life sciences and general purpose analytical instrumentation. With hundreds of major innovations to its credit, Rigaku and its subsidiary companies are world leaders in the fields of small molecule and protein crystallography, X-ray spectrometry and diffraction, X-ray optics, as well as semiconductor metrology. Rigaku employs over 1,400 people globally and its products are in use in more than 70 countries – supporting research, development, production control and quality assurance activities. Throughout the world, Rigaku continuously promotes partnerships, dialog, and innovation within the global scientific and industrial community.
For further information, contact:
Scott Fess
Product Manager
Applied Rigaku Technologies, Inc.
tel: +1. 512-225-1796
info(at)RigakuEDXRF.com